Photos Of Samsung Q1 On The Shelves at Fry
An enterprising, yet anonymous(?) GBM reader emailed in some pictures of the Samsung Q1 UMPC now being sold at Fry Electronics. Not the greatest pictures, but we're grateful for the submission. If you recall, Samsung just recently announced that the Q1 would be sold in all US Fry Electronics stores and in selected Best Buy stores in Texas.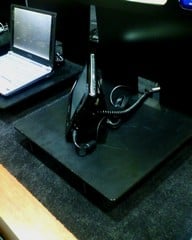 UPDATE: Eagle-eyed GBM go-getter, Dennis Rice, noticed that the sign advertising the Samsung Q1 says Samsung notebook. Hmmm? Maybe that's why all those reviewers were looking for a missing keyboard. Here's a larger look at the sign.