Photoshop Touch Brings Photo Editing Magic to the iPad 2 (Video)
Photoshop Touch, a finger friendly version of Adobe's Photoshop software tool launches on the iPad 2 today, bringing a collection of easy to use features and tools to your iPad 2 for $9.99.
Photoshop Touch goes further than simple photo editing apps, allowing users to make use of Photoshop layers, even moving the project to the desktop layers and all, if you need to more editing.
You can merge multiple images and apply a number of filters, effects and edits in addition to using the new Scribble selection tool.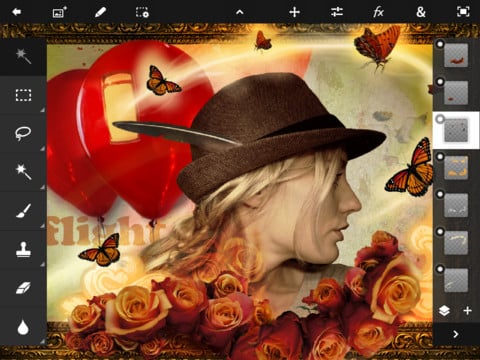 One major downside is that the photos are capped at 1600 x 1600 resolution. Not an issue for the average user, but definitely a restriction that will pain professionals looking for a portable Photoshop experience.
The biggest feature of Photoshop Touch is the new Scribble Selection tool, which is similar to the awe inspiring PhotoShop CS6 demo we saw earlier this month.
Instead of spending hours finely selecting a person or object in an image, you scribble on the parts of the image you want to keep, tap a second option and scribble on the section you want to remove. Next up, you refine your selection with more scribbling, and then Photoshop will extract your selection so you can insert it into a new image as a layer.
The video demo of Photohop Touch's Scribble selection tool is shown below.
https://www.youtube.com/watch?feature=player_embedded&v=89hej8N1Me0
I was able to play around with the tool this morning and found that it will work as advertised, but not all photos are cut out for Scribble selection. When i tried to extract a photo of one of my puppies, the frizzy hair proved too tough for the tool. With more practice and a background that isn't as busy, perhaps my skill will improve.
The video also highlights some of the other nice features for finding and sharing images. If you need a background for your recently extracted object, you can search Google for creative commons images, even dialing into specific colors. When you are done, you can share the image to Facebook or use the Creative Cloud to share the project to your computer with the layers intact.
In the Photoshop Touch demo below, you can see an artist create a composition of images into much more. You'll notice that he is not using the iPad, but an Android table. The iPad 2's camera isn't worth using with Photoshop Touch, but if the iPad 3 has the same camera as the iPhone 4S, Photoshop Touch will be a lot more useful.
You can purchase Photoshop Touch or $9.99 for the iPad 2 only.

As an Amazon Associate I earn from qualifying purchases.