Pick Up an Extra 250 MB on Dropbox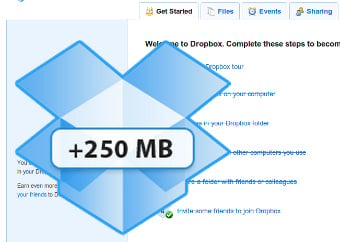 If you're a Dropbox user, you might want to head over to the web interface and click the Getting Started tab. If you do so, you can pick up an extra 250MB of storage. Dropbox is the excellent cloud syncing and storage service that lets you seamlessly sync and move files between various devices. It is one of my most used tools and I use it constantly to keep my own files synced up, as well as to collaborate on projects with others via sharing files.
If you're new to Dropbox, the Getting Started tab walks you through the simple set up of the service. If you've already done that, you can still gain the extras 250MB of storage without having to go through those steps again. I'm not sure how long this will last, so if you're interested you might want to head on over. By the way, you can also pick up another 250MB for inviting a friend to join Dropbox.
Via Lifehacker

This article may contain affiliate links. Click here for more details.