Pictures and Specs of OQO's Model 2+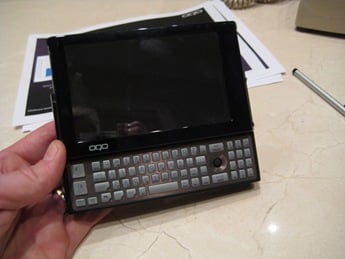 I just did an interview with OQO's Bob Rosin and am uploading the video now. Stay tuned for that. Meanwhile, keep reading for more on the new OQO Model 2+ = pics, specs, and pricing. Can you say $999 and super crisp / sharp?
Keep reading .
Folks, the Model 2+ is a HUGE improvement over the Model 02: a beautiful and crisp OLED display which looks fantastic from every angle; greatly reduced fan noise — I never heard it during our interview and we were playing h.264 video; 2GB of RAM; an Intel Atom 1.86 Z540 processor, and reduced pricing. For those concerned with the OLED screen maintaining its brightness over time, they shouldn't be: after 3 years running 10 hours a day, it will still have retained 80% of its' original brightness. The Model 2+ touch screen is a passive digitizer, and no longer active. Due to the touch screen, there is also a bezel present, which was not there on the Model 02. All of the existing accessories from the Model 02 ( battery, dock, etc) are compatible with the Model 2+.  Stay tuned for an interview and hands-on with the OQO Model 2+
The Model 2+ is available for ordering now and shipping in May.
OQO has also responded to the market with a much improved pricing model
Standard:
$999
1.33 ghz
1 GB ram
60 GB hard drive
XP Home
Advanced
$1499
1.86 ghz
2 gb ram
120 gb harddrive
OLED
Windows Vista
GOBI is $150 extra. 64 GB SSD is $700.
| | |
| --- | --- |
| | |
| Notice the bezel, which is new to the Model 2+. The previous model had a flush bezel | |
| | |
| | |
| | |
| |   |
|   |   |
|   |   |

As an Amazon Associate I earn from qualifying purchases.