Ping Pong Debate With PigPog and The PaperlessUndergrad on Paper Productivity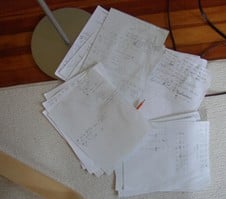 The Tabletscape has seen a good number of Paperless Challenges as folks try to "go paperless" in their routine. But how does "going paperless" play in the realm of creativity? The PigPog Blog recently blogged an intriguing post on Paper Productivity. According to the article paper is faster, more tactile, less breakable, less obtrusive, and more creative. The PaperlessUndergad took up the talking points, point by point, and finds agreeement and disagreement. Both posts are definitely worth a read for the point-counterpoint, that I think points to strong matters of personal choice when choosing your medium.

As an Amazon Associate I earn from qualifying purchases.