Pitch Perfect 2: 4 Things Viewers Need to Know
Pitch Perfect 2 is releasing in theaters today, which means viewers can finally watch the sequel to one of the most popular musical-filled movies over the last few years. Here's what viewers need to know when planning on watching Pitch Perfect 2 in theaters.
Pitch Perfect 2, as you may know, is the sequel to Pitch Perfect, which was an a capella-based film released in 2012 that starred Anna Kendrick, Rebel Wilson, Adam DeVine, and slew of other actors. Many of the same familiar names are back in the sequel, along with some new faces, including YouTube personality Flula Borg.
Pitch Perfect 2 continues the legacy of the Barden Bellas and has them going a step further by competing in international competition against other countries.
If you're planning on going to the theaters and seeing Pitch Perfect 2, here are four things you'll need to know to prepare for the sequel.
Catching Up
If you haven't yet seen the first Pitch Perfect movie, you'll definitely want to watch that one first before seeing the sequel. even if you already saw the first film, it's always a good idea to watch it again before you go see Pitch Perfect 2 so that you can get refreshed if it's been a while since you've seen it.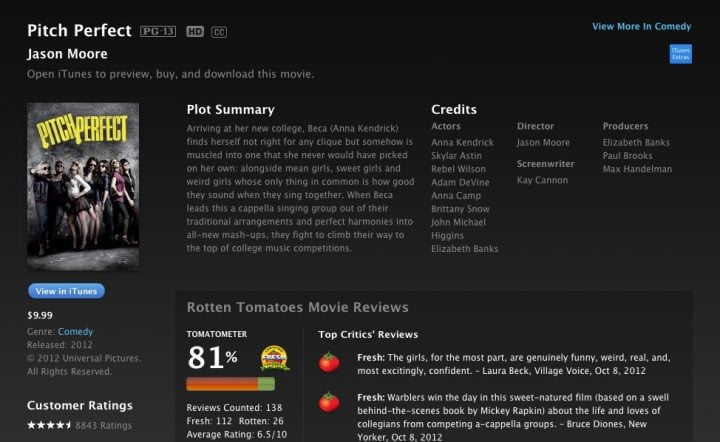 While Pitch Perfect isn't available on Netflix or Amazon's Instant Video service, you can rent or purchase the movie on iTunes, Google Play, or Vudu. Renting the movie costs $2.99, while purchasing the film outright will cost you $9.99.
You can also purchase a physical DVD or Blu-ray copy of the movie if that's your thing. A DVD version will cost you just under $5 on Amazon, and the Blu-ray version rings in at just over $12.
Pitch Perfect 2 Reviews
If you're curious what other viewers thought of Pitch Perfect 2, you can check out reviews on a number of movie-focused apps, like IMDb, Flixster, and more.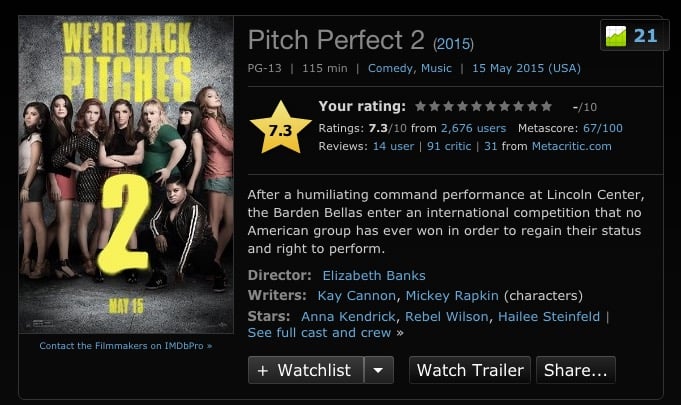 You'll be able to see ratings from both critics and regular movie goers like yourself. You can also read reviews that other viewers have posted, giving you more details about what to expect.
Of course, take reviews and ratings with a grain of salt. Everyone's tastes are different, and if someone thought the movie was bad, doesn't mean that you won't like it.
Buying Movie Tickets
If you'd rather skip the line at the movie theater, you can buy movie tickets on your smartphone instead using Fandango.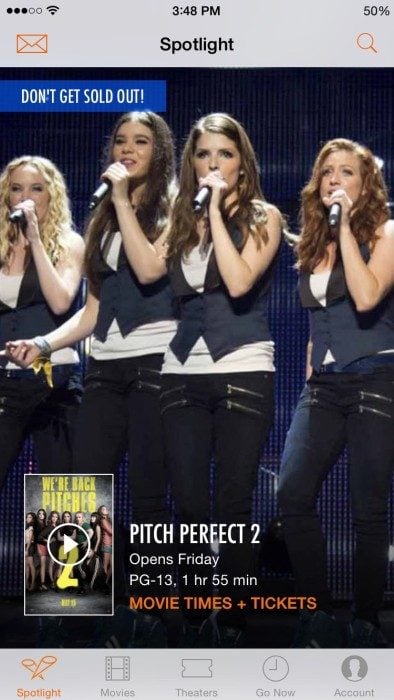 Movie tickets are one of those things where users haven't really bothered to take them into the 21st century. Many movie goers still opt to wait in line at the box office and then hand their physical paper ticket to the worker at the gate. However, technology has allowed us to take the movie ticket experience into the future.
The Fandango app is arguably the most popular app to not only buy movie tickets, but to look up movie showtimes and have a look at all the new movies that are currently playing in theaters as well.
Getting to the Theater
Most likely you already know where your local theater is, but if you're coming from an unfamiliar area in town or if you're in another city and want to go see Pitch Perfect 2, you'll need to get directions.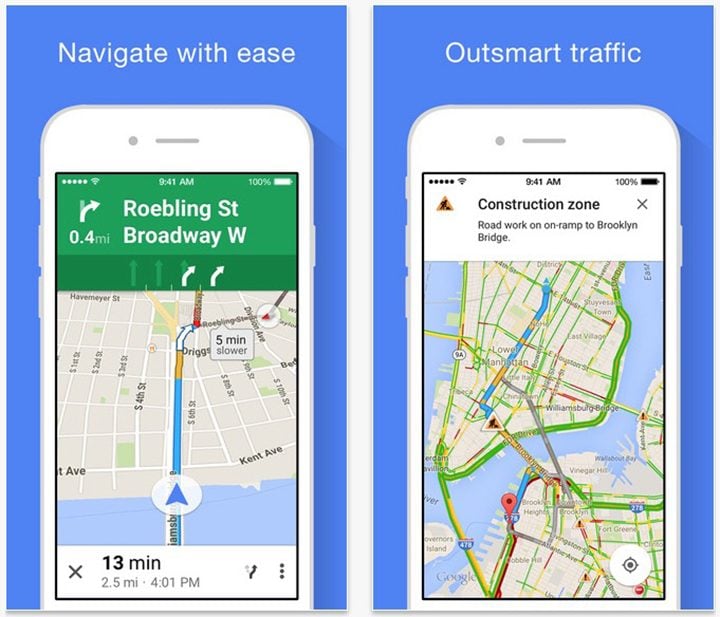 Luckily, Google Maps is a great app to have for such occasions. You can type in the movie theater that you want to go to and then let Google Maps handle the rest. It'll give you turn-by-turn directions to the theater and will also tell you when your estimated arrival time will be, that way you'll know if you'll be late for the movie or not (and it will also give you an idea of how much time you'll have to get popcorn and soda).

As an Amazon Associate I earn from qualifying purchases.