Google Pixel Phone Video Brings Rumors to Life
Google's two brand new Pixel smartphones are all set to be announced on October 4th. Leaks have been arriving at an alarming pace and we have a pretty good idea of exactly what to expect. Everything from photos, press images from @evleaks, and now our first Pixel phone video render.
The first rumors started swirling earlier in the year, but we slowly learned Google will release Pixel phones instead of a Nexus. Now that Android 7.0 Nougat is here, next on Google's list is to release the Pixel and Pixel XL, Android 7.1 Nougat, Google Home and more.
Read: Pixel XL vs Nexus 6P: What We Know
In late June we got a peek at the rumored specs thanks to information acquired by AndroidPolice, which was follows up by a custom image made from reliable information they claim to be the 2016 Nexus phones. Now that we've seen real photos and know they're Pixel devices, here's a video giving us our best look yet. These phones have cleared the FCC, been confirmed for Verizon support and more. It's only a matter of time now.
Right now we know almost everything. Google tapped HTC to build two phones, but will be calling them Pixel devices. Their latest adverts even say "MadebyGoogle" so we know these phones are being done different this year. Google is fully backing it, customizing the software rather than stock Android and more. They have big plans.
According to various reports these two phones will look nearly identical in design, share very similar top-tier specs, but have different screen sizes. Essentially the same approach as the iPhone or the Galaxy S7, rather than the smaller model having underwhelming specs like last year. Not to mention two different phones completely.
Our link above went over everything we know so so far, and below is the latest video giving us our best look at the Pixel yet. Both of these premium all-metal phones will be top of the line. The smaller 5-inch Pixel will have a smaller screen and battery, with nearly everything else being the same.
In August AndroidPolice received more evidence of the these devices. Posting an actual image of the smaller 5-inch Nexus smartphone. Showing the odd iPhone-like design, flat camera, glass panel on back for improved signal performance and the fingerprint scanner. They also suggest the final product will look much better than these images.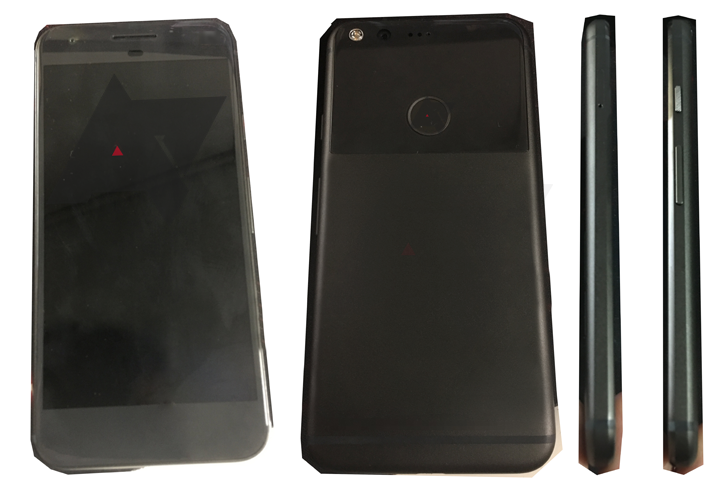 Since then, we've received official press renders of both phones by popular leakster @evleaks known as Evan Blass. To take that a step further @Onleaks has an actual video with official blueprints and schematics of the Pixel XL. This is Google's new phone, although it may look slightly difference once it's released. Is that dual stereo speakers on bottom we see? That or dual speakers and one being a woofer like the HTC 10. We'll have to wait and see.
@Onleaks accurately revealed the Nexus 5X and Nexus 6P using his same sources for the blueprint material, and has offered similar leaks for other Samsung and HTC devices as well. It's safe to say this is as close as we're going to get until Google officially takes the stage on October 4th.
That aside, we're hearing these will have a Snapdragon 821 Quad-core processor with 4GB of RAM, and be very powerful. Add in an improved 12 megapixel camera, 8MP rear camera, image stabilization, 128GB storage options, and the same big battery as the Nexus 6P from 2015. Other things include an all-metal design, fingerprint scanner, custom version of Android 7.1 Nougat, maybe some neat Pixel LED notification lights, Google Assistant and other things. Google surely has a few tricks up its sleeve.
Read: Google Pixel Smartphone Release Rumored
According to another report the images below comes from extremely reliable sources. Their source is also highly confident that this, at some point, is Google's new smartphone(s) for 2016. Now that we've seen the same design over and over again, it's all starting to make sense. Here's a huge collection of images and all four color options for the Pixel phones. Previously rumored as HTC Nexus devics.
It has a rather plain and sleek front face with nothing going on too much, with an all metal frame. There are subtle antenna lines on the back bottom, with a glass window on back for NFC, Bluetooth, WiFi and other radios to send signals though. All metal phones have poor reception, which is why this looks the way it does and iPhone's have antenna lines on the back. This overall design will be present in both the 5-inch and the 5.5-inch model. According to @Onleaks report the phone won't be the same thickness throughout, and the top will be thinner than the bottom. Interesting.
At this point we know almost everything and have seen it all. It's just a waiting game until Google reveals all on October 4th. If they follow previous release cycles, expect pre-orders within a week or two of the announcement. Followed by a release date at the end of October.

As an Amazon Associate I earn from qualifying purchases.