Pixel Qi Screens Shed Light on the Future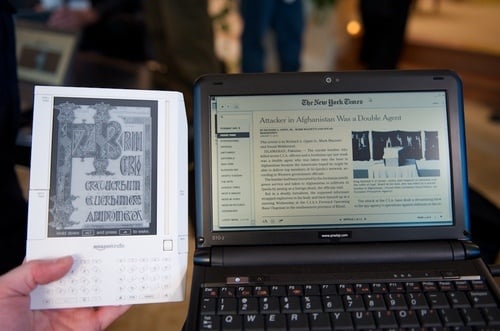 I've been waiting to see some of my fellow bloggers take a hard look at the Pixel Qi screens that are debuting at CES2010 and well they have. Pretty much unanimously they seem to be saying that Pixel Qi is onto something. Here's a quick round up:
What's so exciting about the Pixel Qi screens? The fact that the with a touch of the button you can move from a backlight LED screen eating up 2.5w of power to the transflective non backlight screen that is e-Ink light. This only chews up 0.5w of power. This is also supposedly easily viewable in sunlight or brightly lit areas. Check out the video from jkkmobile after the jump for an example of that.
The power savings for small mobile devices are always a key, and the viewability is certainly a plus as well for those who like to be outdoors. But from what I'm reading we're still a ways off from seeing Pixel Qi screens start to infiltrate our devices. What was I saying about 2001?