Pixel Qi Shows Off 2-Mode Outdoor Readable Screens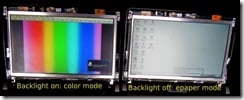 One of the most frustrating things about being mobile is the lack of a decent outdoor viewable screen. Even in a classroom environment, the overhead banks of fluorescent lights often make glare an issue. The solution is to have a matte screen to minimize the glare reflected back. Unfortunately, I've found that matte screens are worse outdoors than they are indoors because brightness is diffused throughout the matte surface. I thought this was something we had to deal with unless we shelled out the big bucks for an outdoor-viewable screen, but even then, those screens are notoriously dull in color indoors. Pixel Qi seems to have found a perfect balance between indoor color accuracy and outdoor viewability in their upcoming line of 3qi screens.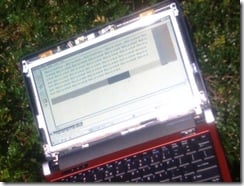 They hope to have these screens available in netbooks and e-readers in the very near future in sizes up to 10″. The trick Pixel Qi uses is to have a backlight that is user-controllable. Indoors, you crank the backlight on and the screen will work like a standard screen, while outdoors, you can turn off the backlight and the screen acts much like an ePaper screen does with very viewable text in full sunlight. Pixel Qi has already hacked their screen into an Acer Aspire One netbook to show how things can be in the very near future. Pixel Qi will be showing off their new screen at upcoming trade shows and I hope we'll be able to take a closer look at this very promising technology.

As an Amazon Associate I earn from qualifying purchases.