Pixelmator for iPad Review
When Apple introduced the iPad Air 2 in fall 2014, Apple invited Pixelmator on stage to demo their awesome new iPad image and graphics app. Pixelmator for iPad brings the powerful editing and image manipulation of the OS X version to the iPad.
Photographers might wonder if the $5 app offers enough features and tools to make Adobe's excellent new suite of iPad apps superfluous. Read on for a quick review of what the powerful Pixelmator for iPad app ($4.99) can do to see if you want to cancel your Adobe Creative Cloud subscription and go with Pixelmator for iPad and OS X instead.
Pixelmator for iPad as a Photo Editing Tool
Sneak Peek at Pixelmator for iPad from Pixelmator Team on Vimeo.
The above video overview from Pixelmator gives users a quick idea of what the app can do. First, it's a great photo editing tool. You can import photos to the iPad, either from iCloud or using a Lightning to SD card adapter from Apple ($29 at Apple Store). This lets users open photos and work on them directly. A person can also create beautiful layouts and add photos to part of that layout using one of the many templates, or a blank canvas.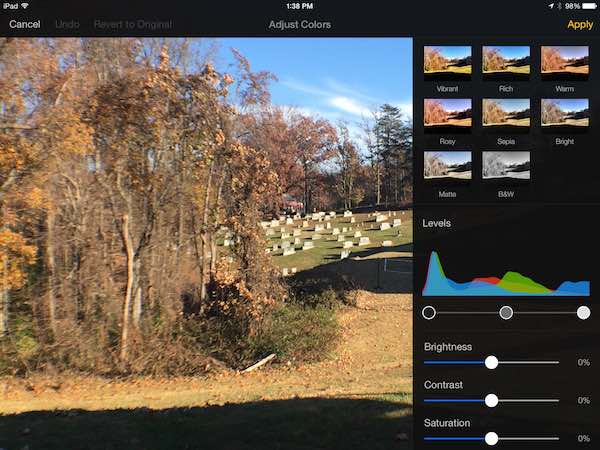 The app includes all the basic photo editing features like color correction, cropping, detail and more. In addition, the app lets users fix images with errant objects, or annoying background distractions, simply by painting over these items. The app will sample the surrounding image content and fill in that spot to remove a photo bomber, a distracting light pole, or a stray kid running behind your portrait taken on the beach.
Pixelmator for iPad includes some interesting effects to quickly change the look of a photo. The video below demos the Vintage effects available in the app.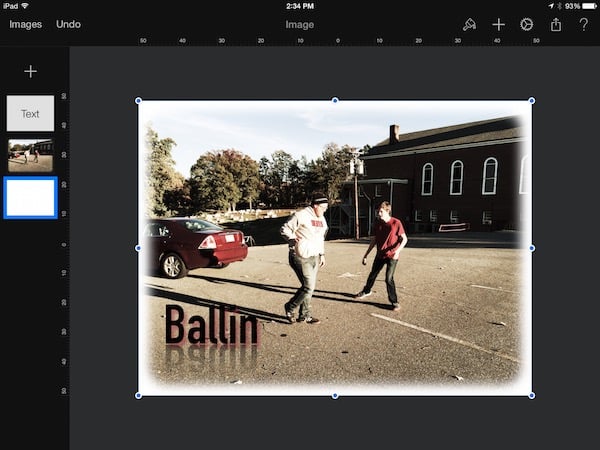 Here's a list of some of the powerful photo editing tools that advanced photo editors will enjoy in Pixelmator for iPad:
Layers
Layer masks
Curves
Add interesting text
Correcting photo blemishes
Add blur or sharpen to remove it
Paint away distracting elements
Advanced brushes
Selection wand that samples the color to do magic selections like Photoshop
Photoshop file format support
iCloud sync support to work with images on a Mac after editing in Pixelmator for iPad
Vintage Effect from Pixelmator Team on Vimeo.
Using Pixelmator to edit and create nice photographic projects is simple for beginners, but the offers enough power for people willing to learn the complete set of photo editing tools. Photo editing with a finger or stylus makes for a more pleasing experience than using a mouse. It feels more personal and precise once the editor gets used to the controls.
The tools work differently than a traditional photo editing user interface, like the one we get with the OS X version of Pixelmator or Adobe Photoshop. So, people with extensive experience in a computer-based photo editing program may struggle to pick up the user interface of the app's tools. But when the person adjusts to Pixelmator for iPad's design, they'll love using it. It's replaced Snapseed as my favorite iPad photo editor.
Painting with Pixelmator for iPad
Painting with Pixelmator for iPad from Pixelmator Team on Vimeo.
In addition to editing photos and creating nice layouts for posters or magazines, Pixelmator for iPad does a great job of creating beautiful original works of art with the powerful painting features and tools.
Using a precision stylus like the Alupen Digital, or any capacitive stylus, artists can create beautiful paintings using their iPad. It feels more like sketching on a traditional art pad than the kind of interface many artists try to use, like an art pad connected to a Mac or PC via USB.
Working with a Computer
Pixelmator does a lot, but some photographers and artists will want to work on the project on their iPad and then finish it on their computer. Thankfully, the makers of Pixelmator for iPad included iCloud sync support.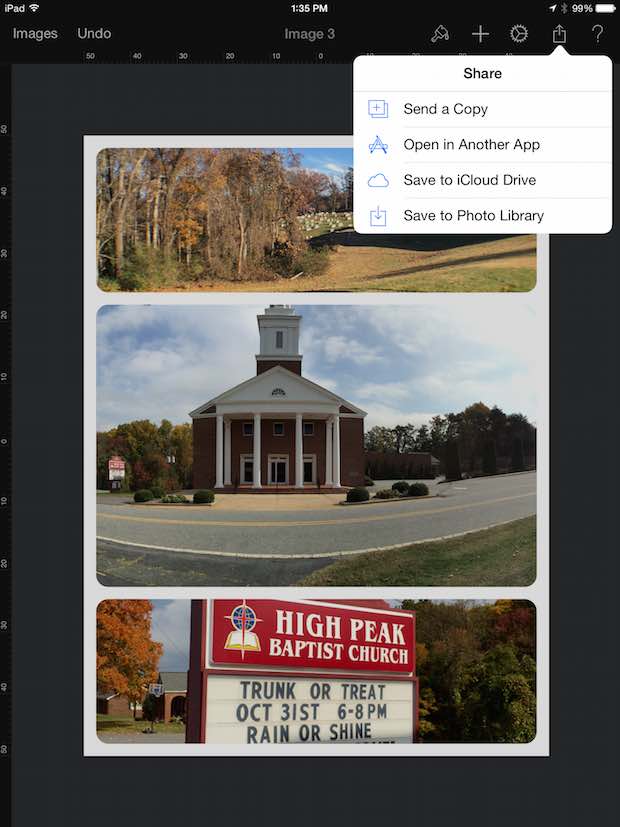 When a project is ready to open on the computer, hit the sharing button in the upper right corner and save it as a Pixelmator file for editing in the OS X version of Pixelmator (now $14.99). The drop down box includes an item that reads Save to iCloud Drive. You can tap it and choose one of the formats, like Pixelmator if you plan to edit in the app, or Photoshop for those who want to use Adobe's app. There's also the option to choose PNG or JPG in the formats dialog box that opens up. The iCloud Drive box shows the folders one can use to save the project. Pick one and then hit Export to this location at the bottom of the box.
The Mac version of the app looks like a Photoshop clone and does most of what the average photographer, artist or layout/design professional would want. However, some already own and know how to use Adobe Photoshop, so the makers of Pixelmator included the Photoshop file format. You can save the file using that format and open it in Photoshop.
On the Mac, open Finder and find the iCloud Drive folder along the left hand column. In it there's a Pixelmator folder, after the user first saves a file using the iPad app. If the user saved to a different folder in the previous steps, then open that folder in this step to find the file.
Opening a file saved as a Photoshop PSD file in Adobe Photoshop preserves all the layers and edits done on the iPad. This makes Pixelmator a great tool for Photoshop users, especially those who edit on a PC, since Pixelmator for the computer only runs on OS X.
Conclusion
Get Pixelmator for iPad. Even if the user doesn't want to edit files using the Mac version, the iPad app does a great job of making all the common edits most photographers need to make on the go. Users can share their content via iCloud Drive or other iPad apps that support share sheets and the iPad's "Open in…" feature. That way users can take a picture with their iPhone or camera, import it to the iPad (if the person uses a camera), open it in Pixelmator and turn it into a beautiful work of art.
Pixelmator for iPad gives layout and design professionals a useful tool to start working on their projects and then open them on their computer, even if they don't use Pixelmator on a Mac. Adobe's design programs all support opening Photoshop files.
Artists can do some awesome work in the iPad app as well.
At only $5, there's not a better photo, design or art app in the iPad App Store. Add the $15 Mac version and uses can do almost anything they'd like with Photoshop for only $20, compared to $10-$50/month for the Creative Cloud subscriptions.

As an Amazon Associate I earn from qualifying purchases.