Plantronics Approaches Smart Through Sensors
When we hear of smart devices, we automatically assume Internet-connected smartphone, tablets, appliances, and homes, but rather than embedding 4G radios in its Bluetooth headsets, Plantronics is approaching smart in a different way–through embedded sensors.
As the maker of wired and wireless headsets, Plantronics estimates that by the year 2020, there will be some 50 billion Internet connected devices and each person would own an average of 8 devices. And as an accessory-maker, Plantronics is hoping to tap that ecosystem to provide users contactually intelligent products that will help automate and simplify the lives of its users through smart headsets.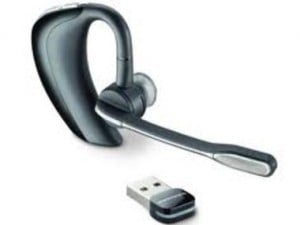 So what makes something smart? Plantronics CTO Joe Burton describes smart as understanding context, otherwise known as contextual IQ. For example, when you ask Siri where the nearest Starbucks or coffee house is, you'd expect Siri to be able to know where you are and find coffee locations within a close proximity. The same goes for headsets, and Plantronics has now embedded a number of sensors in its hardware and is also releasing APIs for developers to tap to bring more functionality to these Bluetooth headsets, which are becoming common practice as more states pass laws that prevent the operation of a phone while driving.
On the company's Plantronics Voyager Pro UC 2, for example, there are skin sensors on the handset that can detect if the user is wearing the headset. Right now, applications for this including routing calls to the Bluetooth headset, rather than the phone, when the headset is worn on the ear, and also playing and pausing music when the headset is worn or not.
In a call center where Plantronics headsets are used, sensors can detect if an operator is wearing the headset. If the operator is wearing a headset, the call can be routed to the available operator to take the call. If not, it would route the call to someone else who is available. This makes for quicker response time and better customer satisfaction at the other end of the call.
Additionally, by leveraging the 3G, 4G, or WiFi connectivity of many devices, Plantronics can also deliver socially relevant contextual information. If a client calls, for example, in a business setting, Plantronics can drive apps and programs that would pull up any recent emails, notes, and information so that the receiver would be refreshed about the context of the call. The idea is not unlike what we've seen with Motorola's MOTO BLUR on Android a few years ago when the caller's recent social network updates were pulled up alongside the photo caller ID.
The possibilities seems limitless and through careful and tight integration with existing smartphones and VoIP systems, I think Plantronics may be onto something. How much will the company's early investment into smart headsets pay off is still unknown at this time, but Plantronics says that it has the first smart Bluetooth headset.
For the ecosystem to take off, the company will need to recruit developers. Anyone interesting in leveraging the sensors in the company's headsets to develop compelling business, personal, or social apps around these headsets can visit developer.plantronics.com to learn more.