Plantronics BackBeat Go 2 Wireless Earbuds Review
Bluetooth headsets provide convenience but often at the cost of sound quality. The refreshed Plantronics BackBeat Go 2 Wireless Earbuds give users both quality and convenience in a comfortable and useful set of earbuds. In our review of the original version of these earbuds our editor called them a great accessory for iPad and tablet users. The same can be said of the new BackBeat Go 2 wireless earbuds. They also work well for watching video or listening to music on a phone or Bluetooth-enabled computers.
The BackBeats produce excellent sound. The Bluetooth connection stayed strong even when walking away from the phone resting on a desk. They offer plenty of volume without distorting the music or audio. The earbuds worked great for music, movies and spoken word podcasts.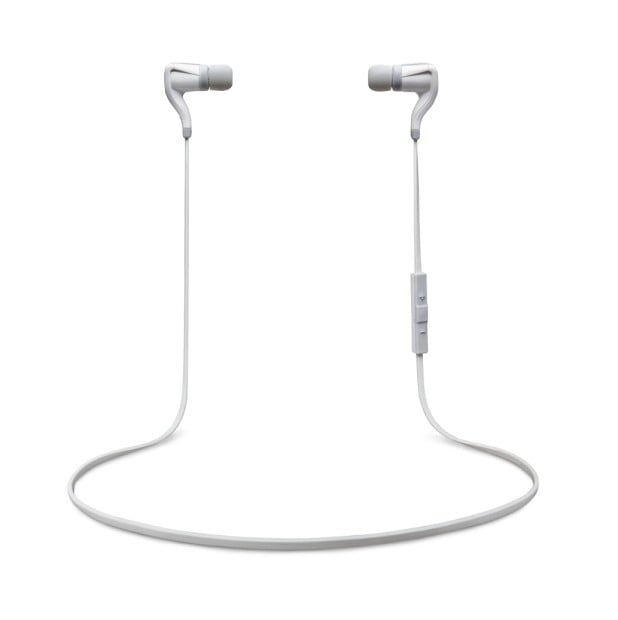 The design beats traditional earbuds and other Bluetooth earbuds we've used, since all the electronics fit inside the earbuds and the tiny volume and control button holder inline on the right side. They don't include a separate housing for the electronics which makes other earbuds bulky.
See the earbuds demonstrated with the optional charging case in this video from Plantronics:
The inline controller includes volume up and down controls. A third center button lets the user turn them on and off as well as helps with pairing the earbuds to up to eight devices. They will remember the eight devices and switch between them quickly so long as the devices support A2DP Bluetooth.
The BackBeat Go comes in two colors, the white pictured above, and black. The two earbuds connect via a 22″ cable that resists moisture from sweat while working out with them on. They're not waterproof but a light sprinkle probably won't damage them.
The earbuds fit comfortably in the ear and come with a pair of different size replacement ear tips so the user can make a fit. Since they only weigh 14 grams, they don't weigh the user down. After hours of use, the Plantronics BackBeat Go 2 earbuds felt comfortable. They last for up to five hours.
The Plantronics BackBeat Go 2 comes with the earbuds, two extra ear tips and a micro-USB to AC adapter to charge them up. Connect it to the port behind a flap on one of the earbuds. An optional charging case comes with the more expensive model which sells for another $20.
The earbuds cost $80 direct, but my local Best Buy store sold them for $60 on sale. Shop around and buyers will find them for cheaper than Plantronics sells them.
The Plantronics BackBeat Go 2 fit perfectly into a mobile lifestyle and come with our full recommendation. We experienced no negatives while using them.

As an Amazon Associate I earn from qualifying purchases.