Plantronics Marque Review: Small, Affordable, Awesome
If you're looking for a great bluetooth headset, but you don't want to spend $100 on a high-end headset, the Plantronics Marque M-155 bluetooth headset.
Plantronics makes a number of headsets, including the Plantronics Voyager HD, which we gave a Best of 2011 Award, but not everyone is willing to wear the larger headset out in public.
If you want a small, affordable bluetooth headset that's perfect for using at home or on the go, I recommend checking out the Plantronics Marque bluetooth headset.
The Plantronics Marque M155 bluetooth headset is an affordable option at $31 from Amazon for the black version and $39.99 for the white model.
I spent the past month using the Plantronics Marque headset with my iPhone 4S, The Droid RAZR MAXX and with a MacBook Air. The Marque pairs easily with these devices, and there's even a voice guided pairing process that starts the first time you turn the headset on. Plantronics also makes an app for iPhone and Android devices that lets you look at the pairing process, test your voice quality and look up tips.
The Marque has amazing call quality, offering crisp and rich audio on both ends of the conversation. I was very impressed with call quality of this headset based on the budget price. This headset definitely sounds like a more expensive headset.
I use my bluetooth headset for more than making phone calls, which is something that Plantronics has keyed into with the Marque. If you want to listen to audiobooks or music on your smartphone, this headset offers great audio quality as well.
The Marque allows you to answer calls with the push of a button on the outer edge of the device, or you can say "Answer" and "Ignore" to take or pass on a call. There is a single volume button on the top of the device, which can turn volume up or down depending where you push it. Aside from that, there is a power switch on the other edge.
What's missing from this set of buttons? The ability to pause and start your music and audiobooks. That's the only downside I have for the Marque, and even then it's a small one.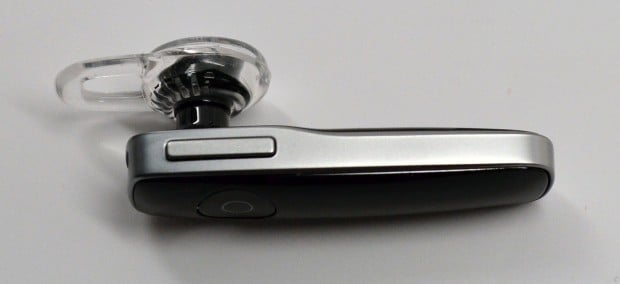 The headset sits comfortably in your ear with one of the three included earbuds, or if you prefer, you can use an included earhook to attach it. I found that the medium earbud is the perfect size, offering a comfortable fit and preventing it from falling out even as I entered and exited my car and navigate the shopping center.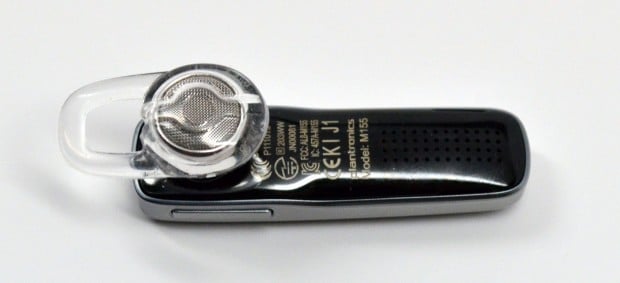 The Marque performs about as well as other Bluetooth headsets with Siri on the iPhone 4S, which is to say sometimes it works great and other times you have to push the button a second time to activate Siri. For now, Siri seems to work best with wired headsets.
Battery life on the Plantronics Marque M 155 is rated at 5 hours of use, which I have found is more than enough to get me through a day of listening to audiobooks, making phone calls and chatting in Google Hangouts. You'll definitely want to take a MicroUSB cord to charge it, but if you are taking an Android phone you'll probably have one on hand anyway.
Plantronics includes access to Vocalyst, a service that lets you call in for a number of cool features such as;
Convert your voice to text: Emails, Reminders, Tweets and more converted to text.
Send SMS: Use your Voice to send Text messages to your contacts.
Additional Services Google Calendar, XPenser, ToodleDo, Remember The Milk and more.
Listen More: Additional news and information sources.
Overall I'm really impressed with this headset, and it's a headset that is small enough that I wear it more often than the larger Plantronics headset I got last year. I will often grab the Marque before I go to the store so I can listen to music or an audiobook while I shop without wires getting caught on the cart.
If you want an affordable bluetooth headset that offers great call quality, good battery life and is small enough to take anywhere, the Plantronics Marque is for you.