Plantronics Voyager Pro UC 2 Review: Best Bluetooth Headset for Your Money
The Plantronics Voyager Pro UC 2 bluetooth headset is an amazing headset that has quite literally renewed my interested in Bluetooth headsets. At $199, the Plantronics Voyager Pro UC version 2 is pricier than many bluetooth headsets, but its worth it.
We've awarded the Plantronics Voyager Pro UC 2 the GottaBeMobile Editor's Choice Award because of the smart sensor technology which delivers a better user experience, comfort, audio quality and battery life.  Even though many of us here at GottaBeMobile don't normally like Bluetooth headsets, the Voyager Pro UC 2 has earned a spot on our ears.
The Voyager Pro UC2 can connect to your phone or your computer (there is a special dongle included for better audio) allowing you to use the Voyager Pro UC2 with a variety of devices. The audio is high quality, but what elevates this headset to essential is the inclusion of smart sensors that get rid of the common annoyances from Bluetooth headsets.
Plantronics Voyager Pro UC 2 Video Review
Plantronics Voyager Pro UC 2 Features
The Plantronics Voyager Pro UC 2 is a new version of the popular Voyager Pro UC, which adds ear sensing technology. These smart sensors allow the headset to intelligently answer your calls. If you answer on your phone, without the headset on, the call is routed direct to your phone. If you have the headset on it goes to the headset. If you pick the headset up and place it on your ear, the call is automatically answered. These features come together to deliver a bluetooth headset experience that is leaps and bounds above the competition.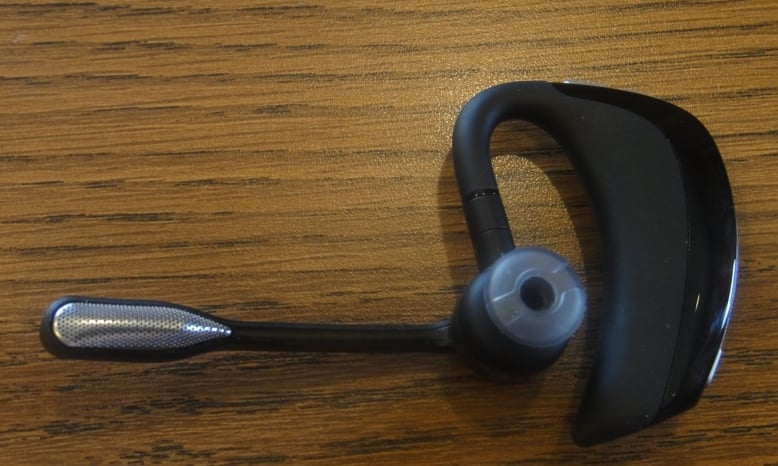 Here are a few of the Plantronics Voyager Pro UC 2 sensor features that we highlighted in our first impressions at Notebooks.com.
Auto Answer – If you are getting a call all you need to do to answer is place the headset on your ear and you're ready to talk. No trying to remember what button answers the call!
Smart Call Answering – Plantronics calls this Smart Call Transfer, but essentially the headset knows if you want to use it to answer the call or if the call should be routed over your phone's speakers. This is great for people like us who often leave their headset in a bag or even in the car and end up screwing up a phone call because the audio goes to a headset that's 15 feet away!
Auto Call Button Locking – If you stow the headset in your bag or pocket the headset knows you aren't wearing it and it locks the call button so that you don't call someone on accident.
Auto Pause for Streaming Media – If you are listening to music or audio through the headset and you remove it the headset will pause or mute the audio. If possible the headset will pause your media. When we streamed Pandora on our PC the headset was also able to mute the audio when we took the headset off, since it couldn't pause the webpage that was in the background.
Plantronics Voyager Pro UC 2 Audio Quality
The audio quality of the Voyager Pro UC 2 is very good with a clear audio experience for both parties. We used the headset in many settings – indoors, outdoors, in a car and in a noisy room. In all of these settings we experienced good audio. In the wind, it was a bit loud, but we could still carry on a conversation.
The only downside in regards to audio is that the volume could go a bit higher. We found that if we seated the headset in our ear just right the audio got louder, but it would be nice to have the option of pumping up the power. If you want, you can download applications for many smartphones that increases the volume on the phone side.
Plantronics Voyager Pro UC 2 PC Applications
The new version of the Voyager Pro UC which we reviewed comes with the smaller Bluetooth dongle that supports higher quality audio when used with Skype or with applications like Dragon Naturally Speaking and Dictate for Mac.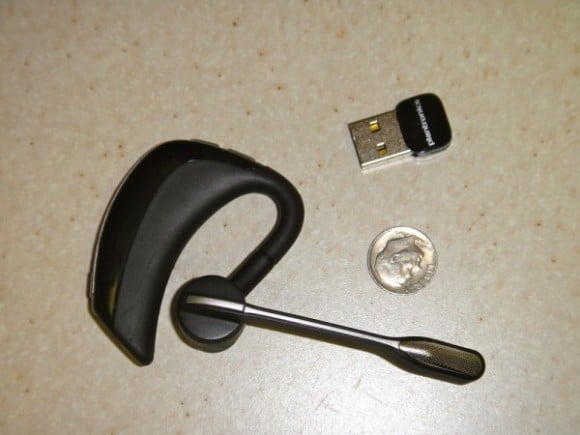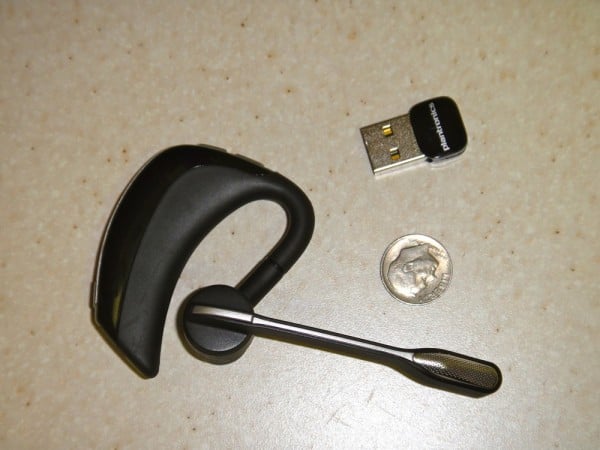 While using the headset with your computer, you can also have it connected to your phone which is handy. If you want, you can get a tool that will automatically update your Skype status when you are on the phone.
We also like that the sensors can tell the computer to pause media when you take the headset off your ear. This is handy when using it to listen to a podcast or audiobook at the office.
Plantronics Voyager Pro UC 2 Battery Life
The battery is rated for 6 hours of talk time and 5 days of standby, which is pretty accurate in our experience. We don't talk for hours at a time, but we want to have a charged headset when we need to hop on a phone call for a briefing or to make a call on the road. We found that with moderate use we could use the headset without charging for a few days. Typically we would put it on the charger every three days to be safe. If you need to charge on the road, it uses a Micro USB port to charge so you can top off by plugging in to your computer or a car adapter easily.
Conclusion
The Plantronics Voyager Pro UC Version 2 is a great Bluetooth headset that delivers a stellar audio and user experience. We may sound a bit like we are gushing, but we've used the headset for 3 months to make sure it wasn't just a fleeting sense of enjoyment and have found that the Voyager Pro UC 2 really is great. One thing's for sure, it's the only Bluetooth headset you'll see me using — even if I look like That Guy.
Plantronics Voyager Pro UC 2 Gallery

As an Amazon Associate I earn from qualifying purchases.