Plastic Logic QUE eBook Reader Makes its Debut at $800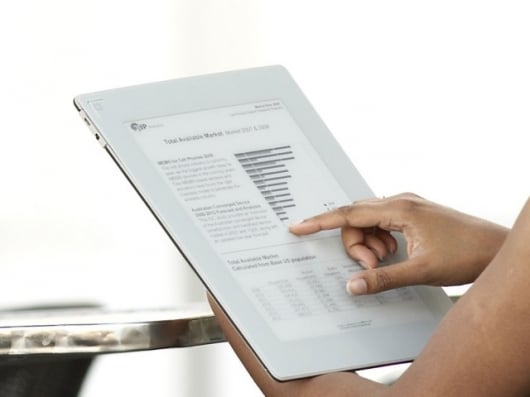 Yikes! Plastic Logic is unveiling its QUE eBook Reader at CES2010, trying to position it as business class device calling it a "paperless briefcase." Well the initial pricing certainly is aiming at a class of individuals used to writing off expenses. Try a whopping $800 for a 8GB version. A 4GB version is $649. Now they are packaging this to be more than a reader, suggesting that you can work on Office documents (Word, Excel, etc…) on the device as well. There's also some mention of interoperability with RIM (Blackberry) products. The lower priced version won't come with a wireless broadband connection, but the higher priced option will hook you into AT&T.
Press Release after the jump.
Introducing the QUEâ"¢ proReader
More than an eReader, QUE is uniquely designed as an essential tool to lighten the workload of mobile professionals.

Sleek industrial design, intuitive user interface, powerful applications and QUE Store define a premium business reading experience. | 7 January 2010
CONSUMER ELECTRONICS SHOW, LAS VEGAS, NV – JANUARY 7, 2010 – Plastic Logic today unveiled QUEâ"¢ (pronounced "Q"), the world's first proReader. More than an eReader, QUE is designed specifically to provide a premium reading experience and access to content anywhere anytime, while simplifying the multi-faceted lifestyle of business professionals –and to literally lighten their workload.
With its sleek 8.5 x 11 inch form factor, crisp large touchscreen display, intuitive user interface and powerful tools, QUE stands out in the crowd. QUE is currently on display at the Consumer Electronics Show in Las Vegas (Central Hall of Las Vegas Convention Center at Booth 11840 anchoring the e-Book Techzone).
"Today we are introducing two major advancements: the birth of a new market category, the proReader, and a milestone in the evolution of plastic electronics," said Richard Archuleta, CEO of Plastic Logic. "The QUE proReader was built from the ground up for people who need to read. Starting today, mobile professionals can look forward to a paperless briefcase, a lighter load, and a better way to work."
Like paper, only better
The inspiration for QUE was an age-old but perfect business tool: a simple sheet of paper. QUE was designed to have the benefits of paper, but without the weight and clutter. Just like paper, QUE is easy to hold and feels good in your hands. But it's easier to search and find exactly what you're looking for.
The size of a pad of paper, about 1/3 inch thick, and weighing less than many periodicals (about a pound), QUE features a 10.7-inch shatterproof plastic display — the largest display in the market.
Exclusive plastic display technology
The patented plastic display technology in QUE has been 10 years in development, since Plastic Logic's founding by researchers from the renowned University of Cambridge (UK) Cavendish Labs. The unique plastic displays are produced in Plastic Logic's world-first commercial scale plastic electronics manufacturing facility in Dresden, Germany. Combined with E Ink Vizplex® technology, they produce an outstanding reading experience that looks and reads just like paper even in direct sunlight.
QUE Design: A celebration of black and white print
Designed through a unique collaboration between Plastic Logic and IDEO, the QUE design was inspired by black and white print—a communications standard that is both classic and timeless. In addition to being the easiest to read, black and white is often the most visually striking combination.
"We wanted to highlight the optical qualities of plastic," said IDEO's Caroline Fagiello, who serves as Plastic Logic's acting creative director. "Think of pools of black ink captured in a glass ink well against a crisp sheet of white linen paper."
Plastic Logic created QUE to feel as natural in your hand as a pad of paper, while conveying the level of premium quality craftsmanship of a fine pen. Its proprietary user interface is as intuitive and easy as paper and ink.
The simple, but powerful QUE user interface is uniquely designed for functionality in the day-to-day world of the business professional. Its signature home view provides your appointments for the day and all of the information you need, including a customized view of your content – your daily newspaper, magazines, and other essential materials – as well as immediate access to the QUE Store to get what you need whenever you need it.
All your content, all the time
Designed for more than good looks, QUE provides instant access to the content busy professionals need at their fingertips all day long – all their content anywhere any time: Read a newspaper over morning coffee. Review your appointments imported from Outlook. Have every document you need when you need it. And at the end of the day, relax with a good book.
In addition to highly valued business and professional newspapers, periodicals and eBooks, QUE supports reading and annotating document formats business users need (including PDF, Microsoft Office, ePub documents and more). With the QUE software, it's easy to quickly convert and transfer content from your PC, Macâ"¢ computer, or BlackBerry® smartphone to your QUE.
The standard 4GB QUE model can hold up to 35,000 documents or the equivalent of up to 35 filing cabinets worth of documents. If your paper-laden briefcase and file cabinets are bulging at the seams, the 8GB model holds up to 75,000 documents or the equivalent of the contents of up to 75 filing cabinets¹.

Powerful tools for interacting with your content
Storage means nothing if you can't easily access your documents. Thanks to its proprietary touchscreen interface, QUE makes it simple to find reports, spreadsheets and presentations with just a few taps of a finger. And QUE is always on when you need it: its battery can last days, instead of hours.
QUE has integrated reviewing tools and features that maximize efficiency. Add a note and use the virtual keyboard to include your comments, highlight text, scribble free form, and even add a stamp to emphasize a point. No stylus needed. And if that massive spreadsheet with the tiny font is too small, just zoom in for a close-up view. With QUE, it's easy to instantly go back and forth between documents.
Wireless access to leading publications, professional content on the QUE Store
The QUE Store offers a rich collection of reading material especially geared to the business professional. QUE users will be able to connect to fresh content on-the-go, on the QUE Store: to search, purchase and download wirelessly via Wi-Fi and AT&T's 3G network².
Powered by Barnes & Noble, the QUE Store offers instant access to the world's largest eBookstore, in addition to many business and professional newspapers, books, and periodicals. Additionally, Plastic Logic is partnering with Olive Software and premier publishers to give QUE users a richer content and reading experience that is optimized for QUE.
Today, Plastic Logic is announcing new partnerships with some of the leading business publishers and publications, including the Down Jones company and the Wall Street Journal, Barron's, and All Things Digital, as well as Forbes and Fast Company. Rounding out new partnerships are the Sporting News and major regional newspapers, including the Sacramento Bee, Miami Herald, and San Jose Mercury News.
These publications join previously announced strategic partnerships with Financial Times, USA Today, the Detroit Free Press and Detroit News, MIT Technology Review, Popular Science, and IDG publication titles including CIO, Network World, and Computerworld. A full list of content partners can be found at PlasticLogic.com.
Publications on the QUE Store are available ranging from one-time use to ongoing subscriptions.
EXCLUSIVE: QUE truVue – Setting the standard for eNewspapers
The QUE proReader enables newspapers, magazines, and other types of content to have a richer reading experience that is symbolic of their print editions, complete with photos and formatting. The QUE truVue standard, enabled by the Adobe Reader Mobile SDK, provides the familiar look and feel of print publications, and makes eReading easier and more enjoyable.
"Since our inception 27 years ago, USA TODAY has offered a reading experience that millions of people rely on and enjoy, so it's really exciting that there is an eReader platform that delivers our content the way it's supposed to look and feel," said Dave Hunke, president and publisher of USA TODAY.
"Forbes has always been at the forefront of embracing and adopting new media and new platforms; eReaders represent that next generation platform to deliver our content," said Nina La France, Vice President Consumer Marketing for Forbes. "The QUE proReader caters to our audience: people who are busy, active, mobile, time-starved, and consume content at a great clip. The proReader gives them the full content experience and new capabilities to stay ahead."
The QUE starts here
Beginning today, preorders for the QUE proReader may be placed at the QUE Store. Beginning in mid-April 2010, QUE will be available for shipping. Later in 2010, QUE will be available through the Barnes & Noble stores nationwide and online at Barnes & Noble.com QUE.com.
The price for QUE will range from $649.00 for the 4GB QUE model with WiFi that holds up to 35,000 documents, to $799.00 for the 8GB QUE model with WiFi and 3G that holds up to 75,000 documents.
To complement its iconic look and profile, Plastic Logic has also designed an entire line of QUE premium accessories, including three carrying cases to match any busy lifestyle. In addition to their classic elegance, the cases protect your QUE from dust, scratches and everyday wear and tear. QUE accessories are available on the QUE store at QUE.com.
Additional information, including high resolution images, are available at PlasticLogic.com.