Plastic Logic's Digital e-Book Reader on Video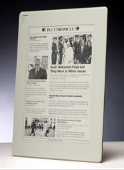 Plastic Logic's e-Book Reader has captured a lot of imagination since it was first unveiled at Demo 08. This video from the BBC gives us an interesting look at the device. I'm not sure if it is the lighting or not, but in the video it makes it look very much like a tablet. No, not a Tablet PC, but just a tablet. You also get to see a look at the screen and how durable it is. While intriguing, the size of this reader seems a little large to me. That said, if you check out the video on the Plastic Logic site, you'll hear them say that it is designed for business reading. Curious.
Check it out.

As an Amazon Associate I earn from qualifying purchases.