PlayStation 4 Game Prices Revealed, Fallon Plays Killzone: Shadow Fall
The newly announced PlayStation 4 made its TV debut last night on Late Night with Jimmy Fallon where the late night talk show host had the chance to play the new Killzone: Shadow Fall on the console.
While Fallon demonstrated a game Sony Computer Entertainment America President & CEO Jack Tretton appeared on CNBC and said games will range in price from $0.99 to $60. That will keep PlayStation 4 games around the same price as the PlayStation 3, with cheaper games as well.
Fallon showed off the new controller of the PlayStation 4 to his audience, and described the new features of the device. He asked about the new Share button, and was happy to see the new L2 and R2 triggers that look more similar to the LT and RT trigger on the Xbox 360 controller.
https://youtu.be/rGlu3e9kdks
Sony detailed the controller in-depth during the PlayStation 4 launch event, but Late Night with Jimmy Fallon was its first appearance on a TV show.
In addition to handling the controller Fallon was able to play part of a demo of the upcoming Killzone: Shadow Fall PS4 launch title. The demo was the same as the demo Sony showed on stage earlier this week, though Guerilla Games played the game slightly differently.
Fallon was able to control the game for a few seconds, killing at least one Helghast soldier in the process.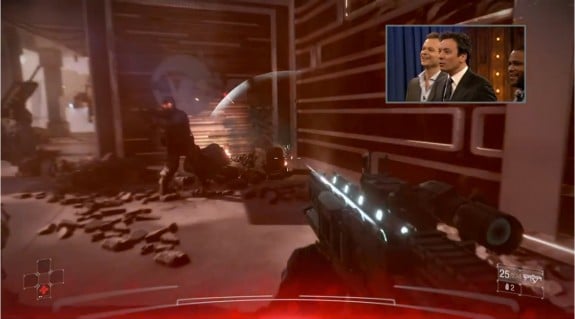 Killzone: Shadow Fall looks just as impressive on the TV show as it did on stage. The game is a launch title for the PlayStation 4 which will come to stores sometime during the holiday season later this year.
Sony still hasn't shown the actual PS4 console, only the controller that will connect to it. This leaves Sony with something to show to users at E3 or another event before the console's release. It also gives Sony more time to finalize the design of the device.
Killzone: Shadow Fall is likely one of the many games that will cost $60 like most games that come on a disc. Other games could compete with mobile games that cost $0.99 or just a few dollars. That could help Sony compete with a rumored Apple TV with app support and the low price of smartphone games which appeal to many casual gamers.
In addition to the new controller the PlayStation 4 will have a specialized companion app for iOS and Android that will act as second screens and let gamers buy and download games to the console. The PlayStation 4 will also let gamers stream games the PlayStation Vita similar to how Project Shield can stream PC games.

As an Amazon Associate I earn from qualifying purchases.