PlayStation TV Gets Insane Price Cut
Almost overnight, buying a PlayStation TV may have become the best, cheapest way to get videos game in the living room. Sony's online store has an unbelievable PlayStation TV price cut. Additionally, video game retailer GameStop has the tiny, digital-only console for cheap too.
This week the Sony Store, USA website began offering the PlayStation TV to online shoppers for an astonishing $19.99. $19.99 got shoppers a PlayStation TV without any extras. $39.99 got shoppers the PlayStation TV with a bundled memory card, DualShock 3 wireless controller and digital copy of The Lego Movie. The PlayStation TV launched last year as the ultimate PS4 accessory. On its own, the device can play games meant for Sony's PS Vita console. It also provides a reliable way to extend the PlayStation experience into other rooms without purchasing multiple PS4 consoles. The coolest feature of PlayStation TV was its ability to connect to Sony's servers and allow users to play games meant for the PS4 and PS3 using the PlayStation Now service.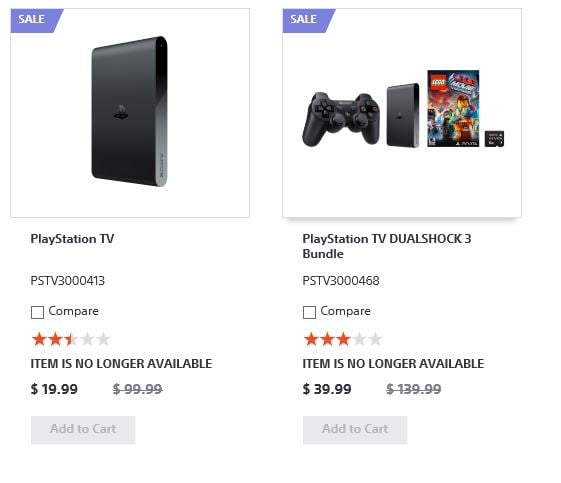 Shoppers quickly pounced on the deal, depleting the Sony Store's stock. Many speculated that the ultra-low deal was related to Sony revamping its online store, but deals at GameStop offer savings similar to the PlayStation TV price cut.
A pre-owned PlayStation TV is now $29.99 from GameStop. This model is perfect for users who already have a DualShock controller around the house. Buying this same PlayStation TV brand new at GameStop is $39.99. GameStop hasn't discounted the PlayStation TV System Bundle that comes with a free game and a DualShock 3 controller like the Sony Store has. It is still $99.
Amazon has the PlayStation TV for $37 on its own and $89.21 with a bundled DualShock 3 controller
PlayStation TV launched last year to what some would definitely described as limited fanfare. For sure, the strategy behind the PlayStation TV is sound. Sony has jumped into cloud gaming like no other console maker. PlayStation Now is available on the PS3 and PS4, but it makes sense to have an even cheaper way for users to experience the service – especially now that it's just $20 a month to rent from Sony's entire PlayStation Now library. In a way, the PlayStation TV is as much an answer to the Chromecast and Apple TV set top boxes as it is Microsoft and Nintendo's gaming consoles. Getting a cheap Chromecast is an easy way to get audio and video onto a television set, an area that's been dominated by consoles and cable boxes so far. Rumors indicate Apple is planning a subscription digital television service and refreshed Apple TV to take on Xbox, Roku, PlayStation, TiVo and cable boxes like Xfinity's X1 set-top box.
Read: 3 Reasons to Upgrade to the Apple TV 4
The PlayStation TV has largely been out shown by the success of the PS4. It also appears that a once hot television set-top box market, is over-saturated with small time players. Apps and games made for the PlayStation Vita, Sony's handheld gaming console, work fine on the PlayStation TV, but the console is missing a crucial partner for a dedicated set-top box: Netflix. When the console first debuted Netflix confirmed that it didn't have any plans to introduce a Netflix app made for the device. That couldn't have helped sales. Netflix is the leading provider of video content and a network in its own right.
PlayStation Vue, Sony's own cable subscription service, could act as the best reason to pick up a PlayStation TV once it rolls out nationwide. The service is being tested in major cities across the country as Sony builds up for a nationwide launch.

This article may contain affiliate links. Click here for more details.