PlayStation TV Release Date Is October 14th
With the PS4 already dominating sales of devices that allow users to play more robust games in their living room, Sony is now preparing to move quickly into the low-cost entertainment and casual gaming space with a new console. The PlayStation TV's release date has been confirmed. It's October 14th.
Sony announced the PlayStation TV release date earlier today. All told, the blog post was a bit understated considering just how big of a move the PlayStation TV is. According to Sony, when the PlayStation TV launches in the United States on October 14th users will be able to hook up the micro-console to their television set to stream movies and play games without any extra hardware – provided that they buy the more expensive bundle that comes with a DualShock 3 controller. At launch the PlayStation TV will be compatible with over 700 games.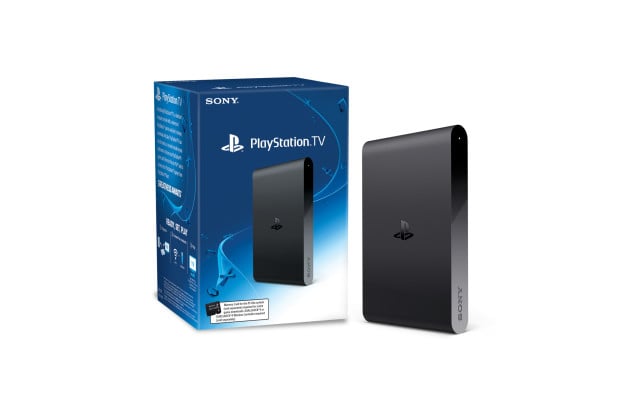 The cheapest way to get the PlayStation TV will be the standard bundle. Priced at $99.99 users who purchase it will get just the micro-console itself. Users who purchase the $139.99 system bundle will get an 8GB memory card and Lego Movie: The Videogame at no extra charge. Users who purchase that same $139.99 on release day will get a get Sly copper: Thieves of Time.
Don't let the lack of a release announcement event or the console's diminutive size fool you. PlayStation TV is the most aggressive move Sony has made to conquer the living room space in years – and that includes the PS4. Sony is launching the PlayStation TV when users crave a robust living room gadget that lets them do the things they want at a reasonable price.
For gamers, the benefits are clear, the PlayStation TV will allow users to play classic PlayStation games from the PSP and PS One. It'll also connect to Sony's PlayStation Now gaming service – making it the cheapest way to experience the cloud gaming service. Then there's Remote Play, PlayStation TV users will be able to interface with their PS4 in one room and play games on the television that's connected to the PlayStation TV. Entertainment apps like Hulu Plus and Netflix will be available along with Sony's own PlayStation Network video and music services. Those entertainment apps are key for people who want a cheap way to do something else other than play video games.
The PS4 competes with the Xbox One at the same price point. By pricing the PlayStation TV at $139.99 for those without a controller, Sony is making its entire entertainment service available to users at an even more competitive price. Effectively, Sony is preparing to cut the legs out from under the Xbox One, even though Microsoft introduced a $399 version of the console just a few months ago.
In fact, its low price and svelte hardware means it's competing with a whole new class of devices. For example, the Apple TV costs $99 and lets users enjoy entertainment apps. Google's $35 Chromecast device allows users with a phone or computer to enjoy video and audio on their television as well. PlayStation TV will even best these devices with a live television service sometime in the near feature. Sony confirmed the TV service earlier this year, according to Reuters. If Sony delivers on the service, it'll be the first of its kind to be available in the United States. Today, many content providers are introducing live streams of their cable channels, but only to users who already subscribe to a traditional cable or satellite package.
Read: Sony Introduces New PlayStation Vita TV to Take on Apple TV
If you're a longtime fan of PlayStation than you may have already had your hands on the PlayStation TV and not realized it. Inside, the PlayStation TV is really a PS Vita without the screen or controllers. The DualShock 3 controller that the console users is actually taken from the PS3, Sony's last generation console.