PlayStation Vue: What You Need to Know
PlayStation Vue is a glimpse of a different kind of future for video entertainment. Theoretically, the new service from Sony threatens to do cable television what Netflix did for on-demand content and DVDs: modernize it.
For years, we've been conditioned to think of cable as an all-or-nothing affair. Only the cable and satellite companies could decide what channels were included in our packages. Getting live television beyond the broadcast networks meant purchasing a cable box and paying a monthly fee. Lately, contracts have become rampant, leaving users with stiff penalties should they decide to walk away from their expensive cable subscription. PlayStation Vue is for the person looking to avoid most of the troubles that having traditional cable comes with.
PlayStation Vue was available in only a few markets last year, but earlier this year Sony expanded it nationwide. Here's what you need to know about PlayStation Vue if you're considering a subscription to the infant entertainment service.
Devices for Streaming
Netflix, the now undisputed king of on-demand video programming, is available just about everywhere. The simple truth is that the breadth of Netflix's availability isn't normal. Most entertainment services adopt a few platforms, then rely on web browsers for everything else. PlayStation Vue sticks to Sony's core strengths where PlayStation is concerned.
Vue isn't something that you can subscribe to without a PlayStation Network account. Furthermore, in order to enjoy the service, you need a PlayStation 3 or PlayStation 4, Amazon Fire TV Stick or Amazon Fire TV. Once you've configured the service, you can also stream through the dedicated PlayStation Vue app on iPhone, iPad and Android. There's no Windows app, but you can watch on PCs through a web browser too.
Read: PlayStation Vue vs Sling TV: What You Need to Know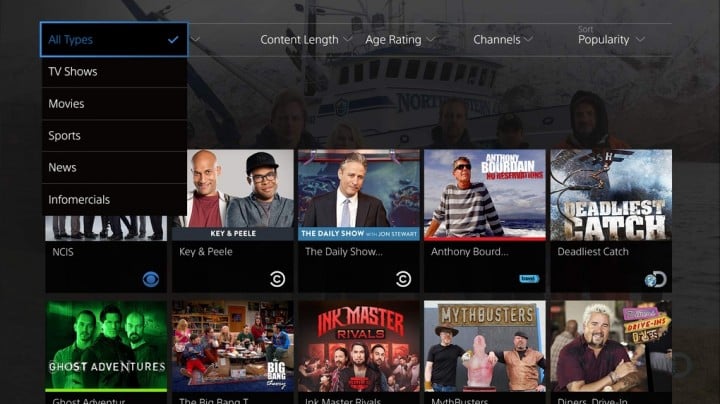 Live Streaming and DVR
By giving users access to live streams, PlayStation Vue lets users see exactly what they would if they had a cable subscription – complete with local channels in some cases. That does mean that you need to prepare yourself for commercials.
Besides live television, PlayStation Vue allow users to save a television show to watch or re-watch for 28 days after it originally aired on television. In that way it's similar to a DVR recording. The commercials stay in, regardless of whether you're watching live or on-demand.
Pricing & Packages
PlayStation Vue pricing breaks down into three different tiers: Elite Slim, Core Slim and Access Slim. For $29.99 a month users get Access Slim, which has a total of around 55 different channels. The $34.99 Core Slim package offers more than 70 different channels. Elite Slim has more than a 100 different channels and starts at $44.99.
In addition to each package's channel line-ups, there are Standalone channels to consider. Showtime, Fox Soccer, Machinima, and Epix can be bolted to any PlayStation Vue package that someone chooses. These add-ons range from $3.99 to as much as $13.99, but PlayStation Plus subscribers actually get a discount. Sony notes that channel line-up and price can vary by location on its website.
PlayStation Vue profiles can only be created on a PS3, PS4, Amazon Fire TV or Roku.
Viewing Details
Speaking of location, that's where things get dicey. PlayStation Vue uses the zip code that users provide when they setup their account as a sort of authentication method. Put a bit more plainly than Sony explains it, if you're outside of the location you provided to the service, PlayStation Vue won't work. No, that's not very streaming friendly, but there it is.
Stranger, even when in the same relative area, PlayStation Vue for iPhone and iPad won't allow users to stream content from Bravo, Chiller, Cloo, CNBC, CNBC World, Comcast SportsNet, Cozi TV, E1, Esquire, Golf Channel, MSNBC, NBC, NBC Sports Network, Oxygen, Sport Syfy, Telemundo, Universal HD and USA.
You can't stream from PlayStation Vue on two different PS4 consoles. That being said you can stream from the same account on a PS4 and PS3 at the same time. Add in iPhones, iPads and Fire TV and five people can stream from the service at the same time.
Channels
The most alluring thing about PlayStation Vue is its line-up. It's far deeper and richer than what other digital services offer. What really stands out is the service's support for broadcast television and partnership with NBC Universal.
For a while, one of the biggest advantages Sony had with PlayStation Vue were Viacom channels. Unfortunately, that all came to an end on November 8th. That's when the company announced that it would drop a number of Viacom's channels beginning on November 11th.
BBC America and NBA TV are getting added to the service, but MTV, VH1, Comedy Central, Nick and Spike TV are all leaving. None of the service's packages will include them going forward. Sony says that it made the decision to remove them so that it could keep its plans reasonably priced. It's important to note that Sony isn't lowering the cost of its plans to compensate for such a big loss.
Free Trial
PlayStation Vue has a free trial available now for anyone in the United States to take advantage of. The trial lasts for 7 days and users do need to provide a valid credit card to bill after the free trial has expired.
Good luck with PlayStation Vue. Though it's certainly a bit pricey, it's the most complete internet cable service we've experienced yet.