PlayUp App Brings Social Interaction to Sports
PlayUp brings social networking to sports via an iPhone app that lets fans interact live during a game. The app includes most of the major sporting events in the world. Connect with your friends by inviting them from Facebook, email or SMS, and then chat in your team's hangout inside the app.
I enjoy interacting with fellow Packer fans as I watch them on Sundays. Currently I've been using Twitter, since I follow a lot of sports writers and other diehard fans like me. However, I know that some of my Twitter followers get a little annoyed at game time. Most of them are more interested in my links to tech stories either here or at sister site Notebooks.com, or to other places. The night and day after a Packer game I typically lose about 5-10 followers.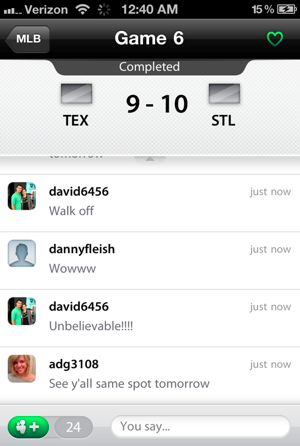 With PlayUp, my non-Packer fan followers can be spared my frustrations or celebrations in 140 characters or less, while I still get the enjoyment of interacting with fans despite living out of market. Through the app I can find my favorite sporting event, follow the score and talk trash through the messaging built into the app.
Currently the app supports the major professional and college sports in the US and world sports like English Premier League Soccer and Australian Rules Football. NFL, NBA, MLB, NHS and MLS are also included. For a NASCAR fan I was a little disappointed that they didn't include it. With $50 Million in startup funding, they should be able to do a lot with this app in the future. I look forward to seeing where it goes, including integration with other social networks that will allow things like posting comments to both PlayUp and Twitter, or Facebook.
You can get PlayUp for free in the App store.

As an Amazon Associate I earn from qualifying purchases.