Pocket eDGe slips out of enTourage's garment storage compartment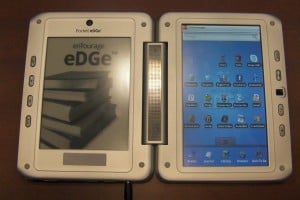 After catching the Pocket eDGe dual-display eReader/tablet from enTourage in the hands of the Terminator, The Digital Reader managed to snap a few shots of the device in-person, which they share along with some all-important details.
Being a smaller version of the original, the Pocket eDGe retains most of the same innards with a few changes due to space. Of note, the SD card slot has been shrunk down to micro-SD and the USB ports were cut down to one. The dual displays are, of course, also smaller with the e-ink side reduced to 6″ and the LCD down to 7″ 800×480.
No mention of the pen for writing on the e-ink side, but it appears to be in a garage at the top of the LCD side in the comparison photo. Not 100% certain, but I believe it's the same size as the original, which is a standard Wacom Penabled pen. That pen should still fit the shorter width of the device.
While the previously leaked shot of the device referred to it as the "Verizon Pocket eDGe", it has been confirmed there will be a Wi-Fi version in addition to one on Verizon's network. Price has yet to be revealed. Should be released late October.
Via Slashgear