Pocketable Canon PowerShot N Is Surprisingly Powerful
At CES Canon announced its new PowerShot N, a very small camera that can fit in almost anyone's pocket.
The new Canon PowerShot N is a small camera that looks like the icon for Instagram with fewer colors. The camera is so small that it doesn't even have a traditional shutter button. Instead the button is on a silver ring around the camera lens. The zoom on the PowerShot is also placed on a ring near the lens of the camera.
Read more CES 2013 mobile news here
The Canon PowerShot N has a small sensor to go along with its size, but it can still take 12.1MP photos. The new diminutive camera can also shoot 1080p video with a dedicated video button. Users can also zoom while shooting videos.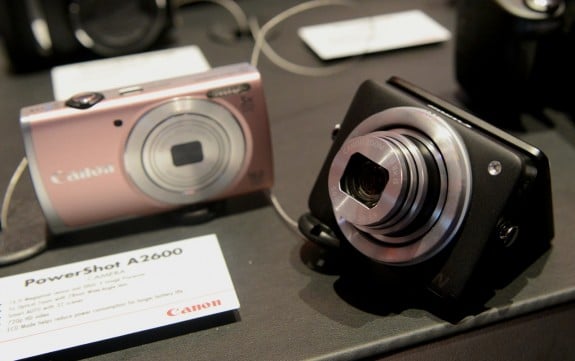 Because of its size the Canon PowerShot N has no physical controls on the back. Instead users interact with the phone via the 2.8 capacitive touchscreen on the back. The screen can also fold up to a 90 degree angle, which is perfect for taking photos of pets and children with kneeling down to eye level with a cat or a crawling baby.
To make sharing photos from the PowerShot N easier, Canon built Wi-Fi into the camera as well as a "Mobile Device Connect Button." The button lets users connect the camera to their Android phone or iPhone to instantly share photos between the devices.
The connection also lets users control a few functions of the camera from their smartphone. That includes viewing and sharing photos. Users can access every feature of the camera through their phone, however.
The connection won't let users take advantage of the phone's six shooting modes, for example. The Canon PowerShot N has Normal, Panning, Macro, Dynamic, Powered and Tripod modes for shooting photos.
Canon didn't announce a release date for the PowerShot N, but did estimate that it will cost $299.99 when it does go on sale.