PocketCloud Explorer for Android Gives You Access to All Your PC's Files On the Go
Part of the problem with owning a smartphone, tablet, computer, and notebook is that you have content disbursed across all these devices but some files may be on one device and not the other. Wyse's PocketCloud Explorer app allows users to search and have access to whatever content they have stored on their PC's hard drive while on the go without requiring expensive digital lockers or cloud storage solutions. PocketCloud Explorer essentially turns your home and/or work PC into your own personal cloud.
The app functions much in the same way as Motorola's custom ZumoCast or MotoCast solution, but is available for all Android phones whereas Motorola's solution is custom to their phones only.
https://youtu.be/xJvwJAJUaUQ
Just released in its first version, the app allows users to quickly and easily attach files on their hard drive as email attachments, edit the files on the go, or move and share files. With audio files, PocketCloud Explorer-maker Wyse says you can stream from your PC without having to download your MP3s. However, in its first iteration, video files will have to be downloaded to your device to be playable as videos cannot be streamed from your computer. Wyse says that it will work on video streaming capabilities in the future when I had sat down with them in San Francisco.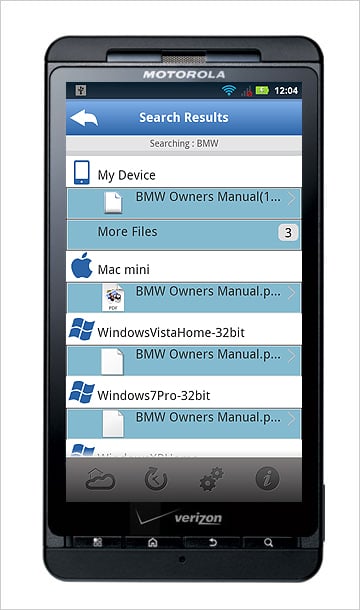 The really cool thing about Wyse is that it allows you to search your private ecosystem. Whereas Google allows you to search all the public content that's on the Internet, Wyse allows you to search your computer for all your files so that you don't have to waste time managing files and deciding which files to port with you. The app is great for business users, frequent travelers, students, sales teams, and others who may work remotely but may not want the complexities associated with a remote desktop solution. With PocketCloud Explorer, you essentially have remote desktop functionality, but you deal with a more clean, streamlined experience that's geared towards having the right files, versus a remote desktop software that's more catered to opening obscure file formats where there isn't an app available on a phone–for instance, opening a PSD file in Photoshop on your desktop while using your phone as a controller.
PocketCloud comes in two pieces–an app for your phone, available for $4.99 from Android Market and a companion app on your desktop. The first 1,000 people to purchase the app will get it for $0.99 today.
Setup was a breeze–no need for fancy, complicated configurations. All you need is a Gmail account–PocketCloud Explorer uses that to authenticate the app to the PC to ensure that you're the one trying to access your computer and not someone else. The main requirement here is that your home or work PC is on and connected to the Internet and your smartphone has Internet connectivity.
I've been using an early version of PocketCloud Explorer the last few days and the experience was easy. The great thing is that if I have a presentation on my PC and want to email it to my colleague in New York while away from my desk from the smartphone, all I have to do is log into the app from my Android phone, tap and hold on the file name and then click attach as an email attachment. That said, the drawback right now is that the file still needs to be downloaded to my phone before it gets attached. In a sense, this will take up some storage on my phone, but I can always delete the downloaded file after I send the email. That said, the one-step process makes everything simple and most users wouldn't know nor care that the file was downloaded.
Press release:
Wyse Delivers Innovative Secure Mobile Cloud Search App
Wyse PocketCloud Explore app enables users to conduct secure, reliable and simple content search and management on any remote computer from anywhere
SAN JOSE, Calif. – December 15, 2011 – Wyse Technology, the global leader in cloud client computing, is changing the way people search, view, and organize their digital lives while on the go with the launch of the Wyse PocketCloud Explore mobile cloud app. The app also pioneers multi-device search, allowing users to easily access files anywhere on their device or remote computers.
Connecting Android devices to content on computers, Wyse PocketCloud Explore enables users to view and share that content from mobile devices. For example, if a user wanted to find the folder of photos from a combined business and vacation trip but could not remember whether it was on their home computer, work computer or office server, they could search all the devices at once and open it on their Android phone.
"At its core, Wyse PocketCloud has always been about making computing on mobile devices easy, intuitive and secure, and Wyse PocketCloud Explore is a perfect example of our dedication to this philosophy." says Daniel Barreto, general manager of the mobile cloud business unit at Wyse. "With Explore we are providing a way for people to finally search their entire digital lives from absolutely anywhere."
The Wyse PocketCloud Explore app provides the convenience of remote file storage and access without the extra cost or security risk of placing files in third-party storage clouds. Where cloud storage companies charge hundreds of dollars to store files, Wyse PocketCloud Explore allows unlimited access to the files already on users' devices. This allows users to remain in control of their own content and still have anytime, anywhere access to their digital lives. In short, it no longer matters which device a file originated from or where you saved it, with Wyse PocketCloud Explore you'll be able to find it, organize it, and share it and quickly and easily.
Wyse PocketCloud Explore features include:
•          Search and browse all files and folders on your computers and Android devices
•          Unlimited copying and moving of video, image, and audio files between Mac or Windows computers and Android devices
•          Open remote files in the app viewer or edit in your choice of Android apps
•          Create and delete folders and rename or delete documents
•          Open a remote computer file from Android email client and send as attachment
Wyse PocketCloud Explore allows users to finally achieve a sense digital harmony with the efficiency of multi-device search, the power of full mobile computing, the beauty of a native Android interface, and the security of retaining control of digital content. Wyse has not only pioneered multi-device mobile search, they have created true digital Zen.
Wyse PocketCloud Explore for Android is available now for $4.99 and can be downloaded here:https://market.android.com/details?id=com.wyse.filebrowserfull
About Wyse Technology
Wyse Technology is the global leader in cloud client computing. The Wyse portfolio includes industry-leading thin, zero and cloud PC client solutions with advanced management, desktop virtualization and cloud software-supporting desktops, laptops and next-generation mobile devices. Cloud client computing replaces the outdated computing model of the unsecure, unreliable, energy-intensive and expensive PC, all while delivering lower TCO and a superior user experience. Wyse has shipped more than 20 million units and has over 200 million people interacting with their products each day, enabling the leading private, public, hybrid and government cloud implementations worldwide. Wyse partners with industry-leading IT vendors, including Cisco®, Citrix®, IBM®, Microsoft and VMware®, as well as globally recognized distribution and service partners. Wyse is headquartered in San Jose, California, U.S.A., with offices worldwide.
For more information, visit the Wyse website at www.wyse.com or call 1-800-GET-WYSE.