PogoPlug Crushing Competition with 1TB of Cloud Storage for $99 a Year
PogoPlug offers some unique ways to do cloud storage using your own hard drives by interfacing with their software, website and PogoPlug devices, but they took a huge leap forward today announcing new PogoPlug with Amazon Glacier built-in.
This gives consumers up to 1 TB of offsite cloud storage for only $99/year making it much more affordable to backup all of those big home videos, high-res photos and music libraries. T
here's also an enterprise solution. Users get the same backup to their own personal cloud connected to a home or office network that PogoPlug always offered. Now they also get cloud storage offsite as well.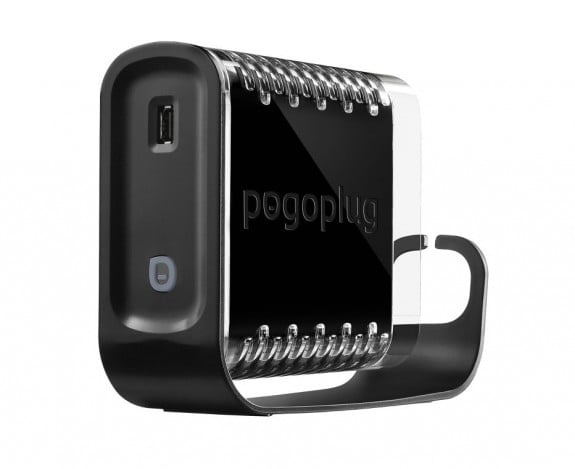 How it Works
Here's how the new service works. With the PogoPlug the user gets a PogoPlug Classic device. It plugs into a network router and offers four USB ports. The user can plug any combination of USB hard drives or flash drives into the PogoPlug Classic. Install some backup software on a Mac or PC and the software will automatically back up the folders selected by the user over the home or office network to the drives attached to the PogoPlug device.
When I'm away from home the files will backup to the PogoPlug Classic device via the Internet. I can change this so that it only happens when I'm at home. That way I'm not using up my monthly data allotment over a Mifi or tethered smartphone or tablet.
The PogoPlug Classic device then uses the home or office Internet connection to sync all of those files with the PogoPlug cloud storage powered by Amazon Glacier, a low-cost online archiving service.  The user can access those files at home from the local device or while away from home using the website or the free mobile apps for iOS and Android.
Users who already own a PogoPlug device can get access to this service right from their device. PogoPlug offers two other devices, the $50 PogoPlug and the $100 PogoPlug Series 4.
Cost for Consumer Service
Pogoplug offers three tiers of service as follows:
100GB for up to 3 users for $29/year
300GB for up to 5 users for $49/year
1TB for up to 7 users for $99/year
Customers of each level will get a free PogoPlug classic. That's a great deal since the device alone used to cost more than the lowest two tiers without online backup.
PogoPlug Team for Enterprise
PogoPlug also will offer a business class version called PogoPlug Team. The service comes with a device or some server-based software that lets an enterprise create the backup on their own servers with a customized interface. They also get access to the mobile apps or can use the website while away from the office. The three levels of service for PogoPlug Team are as follows:
1TB for up to 5 users for $19/month
2TB for up to 10 users for $39/month
5TB for up to 25 users for $99/month
Note the PogoPlug Team service charges per month instead of year making it more expensive but it also offers business class support and customization. A business can make the user interface look indistinguishable from their present enterprise networking solution.
Compared to Popular Cloud Storage Solutions
By comparison this kind of service, without a local backup device, would cost much more from the competition. Here's what the three most popular cloud storage and backup services charge for much less storage.
Box offers the best price, but it costs more than five times what PogoPlug with Amazon Glacier offers. It also doesn't come with the PogoPlug Classic.
The best backup solutions make at least two copies of a file and one of those must reside offsite. To get this with the three listed here, one must sync more than one computer to the account.
We'll test the new service out in a few weeks and report back to let you know if it measures up to the hype. I'm quite hopeful. I can't wait to throw my 200GB of pictures, 150GB of music and 100GB of video at PogoPlug to see how well it works.