Pokémon Sun and Moon Deals: All the Ways You Can Save
As crazy as it may seem, we're now just days away from the launch of one of the year's biggest games. Though certainly interesting, no we're not talking about Call of Duty Infinite Warfare or Watch Dogs 2. In fact, this game isn't available on a living room console at all. We're talking about the Pokémon Sun and Moon release. The two new games made specifically for the Nintendo 2DS and Nintendo 3DS launch on November 18th. That means it's time to start searching for Pokémon Sun and Moon deals.
Pokémon Sun and Moon is the first game in the series to launch since 2014. Like other the titles, they're a generational leap in terms of gameplay and features. The games take place in an all-new region, named Alola. Players will discover Pokémon that they already know and love, but in different forms. There are transport Pokémon to explore the chain of islands on, and all-new creatures to collect. New Z-Crystals allow for devastating attacks. Alola even has its own Professor Oak, just not the same Professor Oak from Pokémon Yellow, Red and Blue.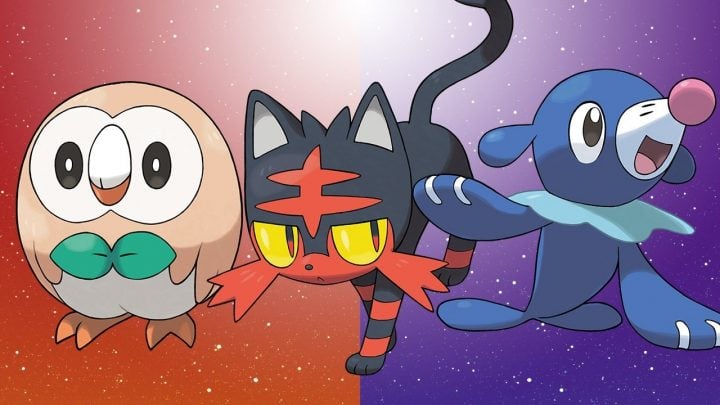 Read: 24 Exciting Pokémon Sun and Moon Feature Details
Here are all the Pokémon Sun and Moon deals that are available for you take advantage of today. That way you can experience all there is to in these two new games, for as little as possible.
Pokémon Sun and Moon Deals: Dual Pack at GameStop
A core part of the Pokémon franchise has been the dual versions that each release offers. This started with Pokémon Red and Blue and has continued for the last 19 years. The games are mostly identical, but include a different legendary Pokémon. To get a complete Pokedex, players need to trade with their friends – or buy both.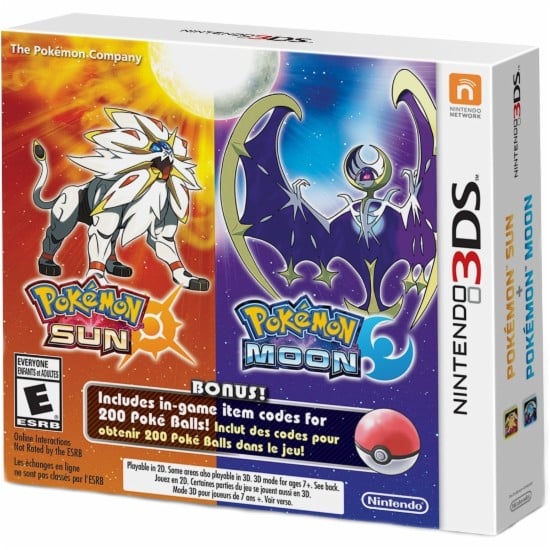 This is where the Pokémon Sun and Moon Dual Pack comes in. Apparently, Nintendo is counting on a large portion of users wanting to experience both titles. Either that, or it's hoping that families with more than one Nintendo 3Ds in their house will want to trade among themselves.
The Pokémon Sun and Moon Dual Pack costs $79.99. The real added value is in the Poke Balls that players get free of charge. The package includes digital codes for 200 in-game Poke' Balls.
[ See the Pokémon Sun and Moon Dual Pack at Nintendo ]
Pokémon Sun and Moon Deals: Gamers Club Unlocked & Amazon Prime Savings
Amazon and Best Buy are busy trying to hang on to physical game buyers as the entire gaming industry switches to digital downloads. As such, they both offer big savings when shoppers purchase new games.
Amazon's Prime subscription service gets shoppers one of the games for just $31.99 before taxes. There aren't any shipping fees. Prime users get free two-day shipping. The service costs $99 a year.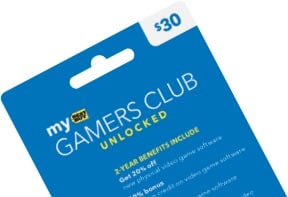 $30 gets shoppers two years of Games Club Unlocked and the same 20% off of physical games that Prime includes, making the games $31.99.
Read: Pokémon Sun and Pokémon Moon Pre-Orders Breakdown
GameStop's PowerUp Rewards Pro membership doesn't get users any exclusive discounts, but does let shoppers rack up extra points for redeemable merchandise available for order online.
Pokémon Sun and Moon Deals: Sun & Moon + Strategy Guide
For those that need absolutely everything that Nintendo has to offer this November, there's the Pokémon Sun and Moon Dual Pack with Strategy Guide. This pack doesn't save users anything really – it costs $102.49 at GameStop. It does mean that users don't have to buy everything separately.
[ Buy the Pokémon Sun and Moon Dual Pack + Strategy Guide at GameStop ]
Pokémon Sun and Moon Deals: 40% Extra Credit from GameStop
GameStop doesn't have a membership discount for PowerUp Rewards. What it does have is a serious Pokémon Sun and Moon deal of its own.
The company makes a lot of its profits off those that trade-in their games to finance new title and console purchases. It's boosting trade-in values for accessories, games and consoles by a whopping 40%, as long as users apply the value of that trade-in toward their Pokémon Sun and Moon pre-orders.
Read: Pokémon Sun & Moon Buying Guide
Shoppers should check the value of their items online, then add the 40% bonus value to know how much credit to expect in total. The offer kicked off on October 24th and lasts until November 17th. That's the night Pokémon Sun and Moon launch around the globe. A PowerUp Rewards Pro membership isn't required, but users do have to take their trade-ins into a store and get manager approval for them. GameStop requires that those submitting a trade have identification and be older than 18.
[ See this Pokémon Sun and Moon Deal at GameStop ]
Good luck saving some cash with these Pokémon Sun and Moon Deals. Expect more savings to surface as release day and the holiday season nears.

As an Amazon Associate I earn from qualifying purchases.