Poor Battery Life Cited as Reason for Voice Over LTE (VoLTE) Delays
One of the most anticipated technologies in the near future is called voice over LTE, or VoLTE for short, that would allow a single 4G LTE modem on a smartphone to deliver voice and data. However, according to a recent study, difficulties of getting VoLTE implemented in the real world may have a lot to do with the technology's battery draining effects.
With CDMA carriers, like Verizon Wireless and Sprint Nextel in the U.S., LTE phones typically have two radios, a traditional 2G/3G CDMA/EVDO radio along with a 4G LTE radio. This allows voice to be transmitted over the 2G/3G radio and data can be accessed simultaneously using the faster 4G LTE network. The system is not perfect, and early implementations–like the HTC Thunderbolt–saw huge battery drains. Over the years, manufacturers have been able to optimized LTE radio and outfit their phones with larger batteries–like the Droid RAZR Maxx series–that mitigate battery concerns.
Still, there are other manufacturers like Apple that design a single chip, like the iPhone 5 on Sprint and Verizon. That design means that the iPhone 5 is the only LTE device that we know of in the U.S. on a major carrier that cannot access simultaneous voice and data connections.
However, VoLTE will give the iPhone 5 hope as voice would be treated like a data call, much like how you'd make a Skype call. This means that voice is treated the same way and delivered in a similar manner as you would access a webpage, like GottaBeMobile.com.
However, that reality may be further away than imagined as Spirant Communications, via Fierce Broadband Wireless, released the result of its study showing that VoLTE drains battery by as much as 50 percent more than voice over CDMA In its test, battery life for VoLTE calls was clocked in at 252 minutes of talk time, compared with just over 500 minutes for CDMA talk time.
The interesting part is that simultaneous voice and data access resulted in 11 percent less battery drain than the current dual-radio solutions employed on Android handsets as only one radio needs to be powered on.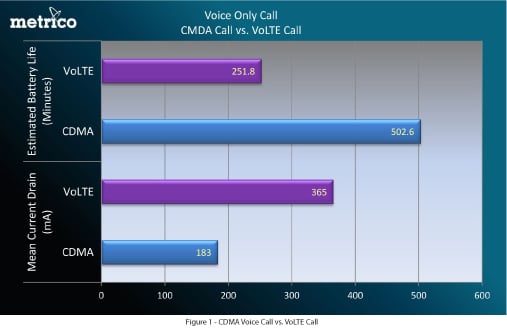 MetroPCS in the U.S. has already begun deploying VoLTE and Verizon Wireless will begin its deployment late 2013. It's unclear when other carriers will follow suit. One benefit is that voice calls will be clearer with less compression, and Sprint is marketing its solution as HD Voice. There is another advantage for VoLTE for carriers as well as calls delivered over LTE networks will be more efficient and require less bandwidth. Migrating calls to VoLTE would allow carriers to shut down legacy 2G networks and add more bandwidth to LTE to continue growth.

As an Amazon Associate I earn from qualifying purchases.