Posh GTA 5 Ill-Gotten Gains Part 2 Release Date Revealed
Video game developer Rockstar Games isn't only announcing its Independence Day GTA Online Event this week. It's finally revealing the Ill-Gotten Gains Part 2 release date that owners of GTA 5 were waiting for.
Rockstar announced the Ill-Gotten Gains Part 2 release date in a post on its Rockstar Newswire yesterday. Along with the release date details came more information about the vehicles and attire that'll be included in the upgrade.
The Ill-Gotten Gains Part 2 release date for all versions of GTA 5 is July 8th. Launch plans for the update seem pretty precise and clear; everyone who has a copy of GTA 5 will get the update at the same time. GTA 5 is available on the Xbox One, Xbox 360, PS3, PS4 and PCs running Microsoft's Windows operating system.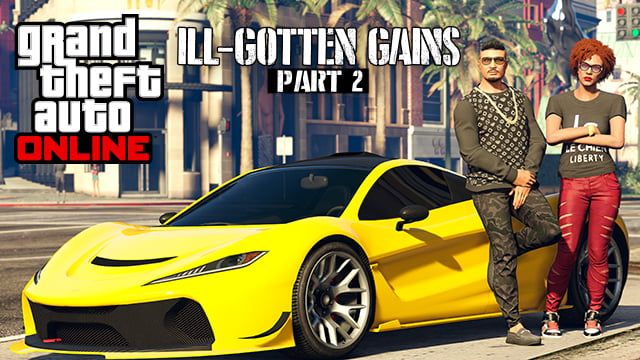 Rockstar says it will offer another blog post next week that chronicles every piece of new gear going into the Ill-Gotten Gains Part 2 release. For now, it's mainly showing off the new vehicles including in the free GTA 5 upgrade. A new Dinka Vindicator will act as both motorbike, and automotive showpiece. The Progen T20 sports car is joining GTA 5's already impressive stable of sports vehicles. Rockstar hopes that a new classic vehicle, the Invetero Coquette BlackFin, will give classic muscle car lovers something new to lust over. The new Coil Brawler vehicle will work on any terrain.
The new Lampadati Toro provides wood grain good looks in a speed boat package. A new Marksman Pistol will provide those with enough in-game cash and skill a way to possibly one-hit kill the majority of what's in GTA Online. AmmoNation, the in-game weapons store, is also picking up a Knuckledusters, a pair of brass knuckles for use in melee combat. New clothing and accessories are coming to, though so far we only know that a new leather jacket will make it into the game.
Ill-Gotten Gains Part 2 will finally add what had been an exclusive in-game radio station for PC users. The Lab is coming to everyone with a copy of GTA 5. That includes GTA 5 for the PS3 and Xbox 360, which sometimes misses out on new features due to their hardware limitations.
Ill-Gotten Gains Part 1 launched roughly a month ago. With it came tons of expensive gear. There was a gold-colored tour bus, jet and helicopter. Ill-Gotten Gains Part 1 even added designer vehicle wraps so that players could customize their favorite cars to match the designer clothing available to characters flush with cash in the game's different shops.
To be clear, Ill-Gotten Gains Part 1 and Ill-Gotten Gains Part 2 are upgrades for just GTA Online, the multiplayer mode that comes free with copies of GTA 5. In the game's main story you play as either Michael, Franklin or Trevor. GTA Online takes place in the same world as the main story, but doesn't have some of its limitations. Instead of becoming an established character, you create your own. To be successful in GTA Online players need to earn money and reputation. Doing that requires completing different kinds of jobs and activities. Something as simple as robbing a store and successfully getting away earns you reputation. There are other missions that require more thought. For example, GTA Online has races and smaller jobs that users can pull off to earn in-game currency. They all require that you play with or against another GTA Online player.
Read: Independence Day GTA Online Event: 3 Tips for Fast Cash
All updates to GTA Online no matter how big or small have been free and there's no reason to expect that things will be different on Ill-Gotten Gains Part 2 release day.

As an Amazon Associate I earn from qualifying purchases.