Post-CES 2009 Interview With VIA's Tim Brown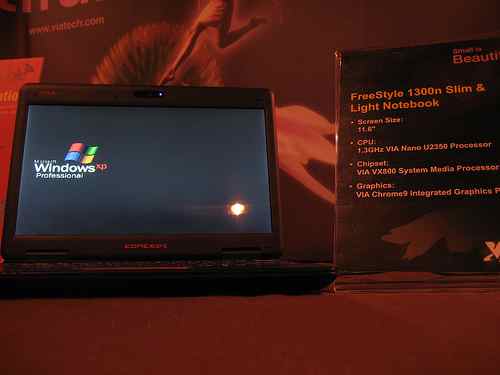 The madness that surrounds CES and our efforts in maximizing coverage with a staff of four means that in-depth interviews are few and far between during the show. We will continue to have follow-up discussions with companies whose products promise to bring significant changes to the mobile computing sector as they become available. In this brief email interview, Timothy J. Brown, International Marketing Manager for VIA Technologies, gives insight into VIA's market strategy, outlook, and future plans in the face of competition from Intel's Atom. Check out the quick Q&A after the jump.
GBM: Even though the Nano chip was just recently made available, Intel has announced that it is coming out with an update of their own—the N280 Atom processor as well as the upcoming N330 Dual Core Atom processor. Would it be a fair assessment to say that VIA is still playing catch up to the industry standard?
TJB: I would say that VIA has been ahead of the curve — not behind it. We pioneered energy efficient computing long before any our competitors woke up to the importance of this trend and our VIA C7 came out a long time before the Intel Atom and was adopted in quite a number of UMPCs and mini-notebooks before the Atom was launched. As for the VIA Nano processor, this already delivers superior performance to the Intel Atom and we will implement further improvements to it by mid-year and expect to see our raw performance increase by 33% and a decrease in power consumption by almost 50% – which very much echoes what our customers are telling us they are looking for. We will also be introducing a dual core version by the end of the year.
GBM: Intel has announced their N280 processor, which on paper, looks to be a meager update to their lineup. Does VIA see this as an opportunity or a setback for the Nano?
TJB: Definitely this would be an opportunity! VIA doesn't face the same market issues as Intel does regarding energy efficient processor platforms. Since we don't have a large mainstream notebook market and attendant components with their higher margins to worry about cannibalizing we don't have to place any limits on our processor development for netbooks and slim and light notebooks… and more importantly we don't have to limit our platform in anyway. So our customers CAN put 4GB of RAM for instance in their products as one example or include a discrete graphics solution as another.
GBM: Why do you think the Asian and European markets have warmed significantly to VIA's processors and chipsets, but the American market seems lukewarm and perhaps even a bit apprehensive about adopting the VIA alternative?
TJB: I am not sure I agree with your premise here. The US has been one of our biggest markets for the VIA C7 processor in both the mini-note and embedded market segment and we are seeing a huge amount of interest in the VIA Nano processor from America. Naturally, we still face a lot of challenges in promoting VIA processors given that we are a much smaller company than our competitors, but at the same time were are seeing increased global acceptance and market momentum.
GBM: If you could do it over again, would you have gone with the HP Mini-Note 2133? Some of the complaints that came from that device were that it was dogged by poor performance in part due to the VIA processor and in part due to Vista as an OS. Some people have put on either Linux or Windows XP onto their 2133 with great success in terms of increased performance.
TJB: Absolutely! The HP 2133 was a huge design win for us and it's a great product.
GBM: On the same HP Mini-Note 2133 vein, OQO utilized the C7-M chips from VIA as well. Both of these products came in at startlingly high prices, with the 2133 costing up to $900 and the OQO costing up to $2500. Do you think the price points hurt VIA's name and affected sale numbers after reports of sluggish performance were widely reported?
TJB: It is not our policy to comment on the pricing strategy of our customers but what I would say is that both the HP2133 and OQO really showed the tremendous amount of innovation that our customers can do using our low power processors.   Where the MID market is trying to go today, we achieved with the OQO people more than 2 years ago!..and I would argue from the feedback we've seen, the majority of OQO users absolutely love their devices.
GBM: How does HP's new Mini-Note 2140 series and OQO's Model 2+ use of the Intel Atom processor affect the outlook for VIA from this point on? Can we expect to see VIA chips in HP and OQO units as an alternative in the future or has the partnership with these companies ended?
TJB: Unfortunately I cannot comment on specific products, but I would say that   we continue to enjoy close relationships with all our customers.
GBM: At CES 2009 during Lunch at Piero's, organized by VIA, a lot of new and exciting products were on display. Most of these products are already available in Europe and Asia. What is stopping VIA from infiltrating or introducing these products to the American market?
TJB: Many of those partners at [email protected]'s are lacking US distribution partners at this time. Part of the effort of that event is to bring some attention to those products and companies so that they can find US distributors. Others are in the process of developing those relationships already.
GBM: Right now, the Trinity platform looks amazing in its ability to render video playback for small and medium-sized desktops. Is it possible for VIA to further miniaturize the Trinity platform for utilization in netbooks? Do you see a future for Trinity in VIA's resurgence in the netbook sector?
TJB: Definitely, in fact   that was the plan when we announced Trinity in Dec.
https://www.via.com.tw/en/resources/pressroom/pressrelease.jsp?press_release_no=3007
and we are already working with partners on mobile products based on Trinity which should be available as early as mid year.
GBM: Samsung showed off its new MID and announced unofficially the NC20, both of which utilizes the VIA Nano processor. Some people are considering the NC20 to be a regular notebook rather than a netbook because of its 12.1 screen. Whatever it is called, do you think the VIA Nano processor will make an appearance on full-sized laptops/notebooks, or is it relegated to just internet-centric devices?
TJB: VIA thinks the VIA Nano processor is ideally suited to mobile devices in the 12″ screen size range and definitely you will see both netbooks and slim and light notebooks based on the VIA Nano processor appearing on the market throughout 2009.
GBM: The FreeStyle 11.6″ netbook you demonstrated has garnered a lot of attention. Can you provide us with more details on the device, such as resolution, processor speed, RAM, HDD space, when it will be available Stateside, and a projected price point? Would it have a single core or a dual core Nano processor?
TJB: Ram, resolution and screen size (without sacrificing on portability… size and weight) are super important and the FreeStyle 1300n 11.6″ device supports up to 4GB of DDR2 RAM and resolutions of up to 1366×768. Here are the rest of the basic specs for you:
FreeStyle 1300n Specifications
VIA Nano 1.3GHz Processor
VIA   VX800 Chipset
Windows XP ® / Vista ® Home Basic OS
11.6″ WXGA   (WXGA, 1366×768)
DDR2 up to 4GB (2GBx2)
SATA 2.5″ HDD/SSD
USB 2.0 x3
Touchpad
VGAx1
Webcam 1.3M x1
LAN (10/100/1000)
WiFi (802.11b/g)
Bluetooth (EDR2.0, DUN, PAN, A2DP + AVRCP)
Embedded mini PCIe device options
– HSDPA/HSUPA

– TD-SCDMA / W-CDMA / EVDO

– WiMAX
3600~3800mA   Li-Polymer Battery
SD/SDHC/MMC Card Reader
281mm(L) x 198mm(W)   x 25mm(H)
<1.3Kg Weight
The expected MSRP will be in the range of US$499 depending on the configuration.

As an Amazon Associate I earn from qualifying purchases.