Post-Valentine's Blues? AT&T and GottaBeMobile Love You Giveaway
If you didn't get the gadget you've been fawning over lately from your significant other as such gadget may be deemed to be a not-so-romantic gift, fret not as GottaBeMobile and AT&T Northern California are teaming up with two giveaways. The first option is announced today, and we will announce the second giveaway later. The first contest will close at the end of the month on February 28th and up for grabs is an AT&T 4G HSPA+ compatible edition of Samsung's Galaxy Camera, which will be great for vacations and to capture and instantly share your images.
Galaxy Camera, AT&T Edition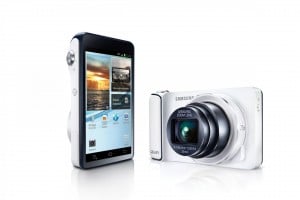 The Galaxy Camera has a 21X optical zoom, which is cleaner and clearer than the digital zoom on your smartphone. It has a huge 4.8-inch HD Super Clear LCD panel and is powered by Android 4.1, which means you'll have access to all your favorite apps and also can visit Twitter, Facebook, Flickr, and Instagram to share your memories.
Contest Entry Rules
Here's what you'll need to do to enter the contest for a chance to win the Galaxy Camera.
Subscribe to GottaBeMobile on YouTube by visiting www.YouTube.com/GottaBeMobile
And also tweet on Twitter: "I am entering to win the Galaxy Camera Giveaway from @GottaBeMobile and #ATTNorCal. youtubeID" Be sure to also include your YouTube ID as well in the tweet so we can verify you did step 1.
Winners will be notified privately by one of our editors when the contest closes. We ask that you are a resident of the U.S. and are 18 years of age or older to participate. Good luck and we hope you'll share the giveaway contest with friends as well.
This contest is sponsored by AT&T Northern California.

As an Amazon Associate I earn from qualifying purchases.