Potential Microsoft Portable Music Device: A Boon For Tablet PC and Origami?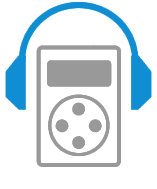 Lots of chatter about word that Microsoft if readying a portable media device (some are calling it a potential iPod killer) equipped with WiFi. Target date is this holiday season. Of course there is also a planned music download service as well. There is still lots of speculation and no real official announcement of this yet, but what could this potentially mean for mobile and tailored devices like the Tablet PC and the UMPC/Origami?
Remember there was lots of speculation that the UMPC/Origami would have this capability back in the days of the viral campaign but that all came to naught. That said, according to Engadget there is an interesting twist to this rumored device/service that could be great news for mobile users.
One of the biggest drawbacks to any one of the portable media strategies is interoperability. It's tough and in some cases impossible to take your music from one system to another if you purchase it because of competing DRM schemes. I'm an iPod user, well I was until mine died, now I'm a non-portable media player guy at the moment. I've been looking at alternatives, but I keep coming back to the fact that I bought into the iPod/iTunes circuit and unless I want to spend hours burning CDs I'm sort of stuck in that mode. But maybe there's an option ahead.
Engadget is reporting that Microsoft's music service will scan your existing iTunes music for purchased music and allow you to add that purchased music to your new Microsoft device. Of course this is being done to get customers to switch and if true it would certainly sweeten the pot.
Is this a potential boon for Tablet PC and Origami users? Time will tell, but if interoperability appears in this fashion or something similar to it, I would hope that interoperability would extend beyond a new portable device, and allow users to pull their already purchased music onto UMPC/Origami's, Tablet PCs, and other devices as well.