Power2U AC/USB Wall Outlet Review: 2 USB Charging Ports for Your Wall
These days, pretty much all of my gadgets charge over USB. This means my nightstand and office outlets are covered with bulky, unsightly USB adapters. So I jumped at the chance to review the new Power2U AC/USB outlet.
This new outlet from NewerTech is an easy to install wall outlet that adds two USB charging ports to a standard wall outlet, and is capable of charging two USB devices at the same time, including an iPhone and an iPad (though charging both at the same time will result in longer charging times).
You can purchase the Power2U Wall outlet, with dual USB charging ports (5.2V) for $30, and installation is a breeze. You can get two outlets for $50 for a limited time, which means you don't need to choose between your nightstand and your office.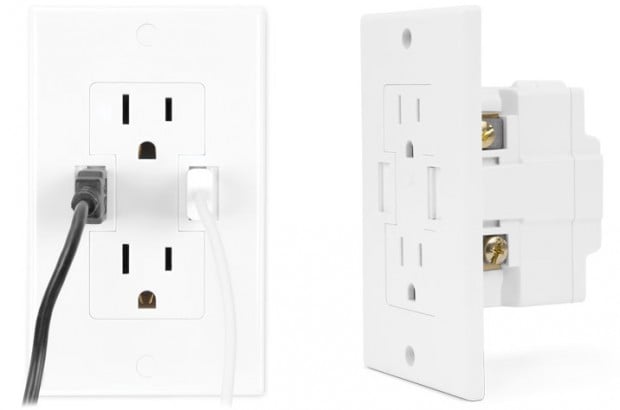 Installation
If you can flip a switch and use a screwdriver, you can install the Power2U wall outlet. I am not an electrician, but I was able to follow the included directions to install this outlet in about 5 minutes.
You need to turn off your power at the breaker, usually in your basement, then you can remove the old wall outlet. I needed both Phillips and  flathead screwdrivers, but those are the only real tools you should need.
A flashlight and wire strippers are handy to have on hand, but my wires were stripped enough to slide into the screws and tighten down without the need to strip them anymore.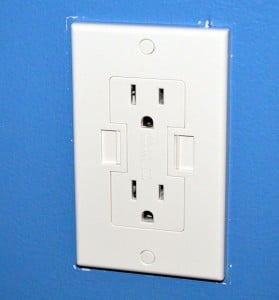 Three things about installation:
You need a big enough outlet box to install this. I had no issues, but you may want to open up your wall box and make sure it is at least 16 cubic inches.
Electrical boxes typically range from 15 to 16 cubic inches. To determine the size of the electrical box you intend to install a Power2U into, turn off power to outlet, remove faceplate cover, and measure height, width, and depth of the box. Multiplying those measurements together will equal the cubic inches or volume of the electrical box. If you are unsure of how to do these and/or cannot follow all safety precautions, you should consult an licensed electrician. – Newertech
There are 5 screws, 2 hot, 2 neutral and one ground. You may only need to connect 3 wires to make this work. The directions note this, but not in an easy to find manner.
The faceplate is smaller than the traditional outlet cover that was in place. Why is this a big deal? If your old faceplate was painted around or scuffed the paint when you removed it, the new cover may not cover the entire area. You can see in my picture that this was the case. Some touchup paint can solve the problem, but in my case this is behind a nightstand, so it isn't a dealbreaker.
Charging
The USB ports are in the center of the unit, and covered with safety shutters. When you don't have a USB cord plugged in, there is no power provided to the USB ports, so you aren't wasting energy.
The two UBS ports are rated at 5.2 volt, 2000mA (10W), which means it has enough power to charge a power-hungry iPad. But, if you want to charge an iPad and an iPhone at the same time, charging will slow down some. This didn't prevent my devices from charging up overnight, but if you want to top off  both of these devices quickly before you jet out the door you'll have less juice.
You can charge pretty much any USB 2.0 or USB 3.0 device that can be charged with a USB cord, from phones and tablets to accessories.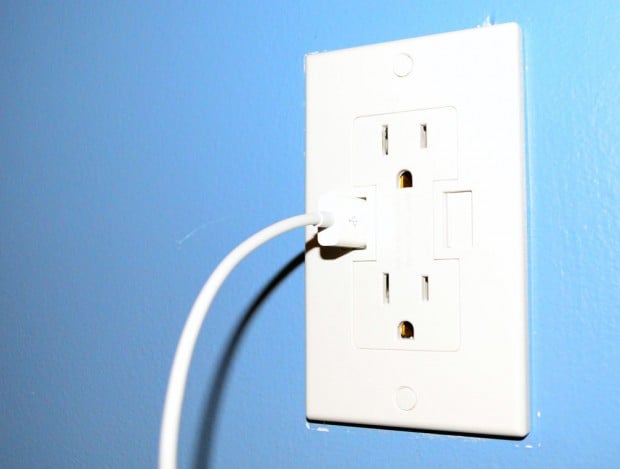 Verdict
I'm already a huge fan of the Power2U USB Wall outlet adapter. I can now charge up multiple devices without the need for a powerstrip. As an added bonus, this moves my cords a foot off the ground, so I can charge the iPad while watching Hulu in bed.
I wish the faceplate was a little bigger, so that it covered up any hidden cosmetic flaws from the old outlet cover, but this is relatively easy to fix.
The Power2U is easy enough for anyone to install and is a great accessory for anyone with multiple gadgets to charge. Now that I have the Power2U, I can keep the iPad charger in my backpack for travel, without paying $35 for a new iPad charger.

As an Amazon Associate I earn from qualifying purchases.