Pre Black Friday Deal: NextWorth Kindle Trade In Nets 50% Bonus
If you're looking to trade in a Kindle to make a few extra bucks to spend on Black Friday deals, NextWorth has a bonus for you. The Nextworth Kindle trade in, beginning today, allows you to trade in any Kindle device in any condition and get an extra 50% bonus on the cash you receive. NextWorth is one of several companies that allow you to recycle your gadgets for money so that you can continue your gadget addiction, or use the cash for some other purpose.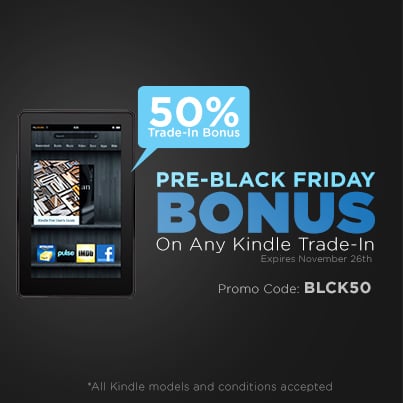 To take advantage of the deal head to this link and enter the promo code BCLK50. You tell NextWorth the type of Kindle you have and the condition of your device and they will quote you a price. If you accept, then you print out a shipping label, box up your Kindle and send it in. Once NextWorth receives your gadget they inspect it and wipe it clean of any data. But, you should do that before sending it off. The length of time it takes to receive your payment after your device is inspected and approved depends on how you choose to receive it.
You can receive payment as follows:
NextWorth Discover® prepaid card (payment received in 3-10 days)
PayPal (same day payment)
Check (payment received in 3-10 days)
Target gift card (payment received in 3-14 days)
I've used NextWorth and other services to recycle gadgets to feed my gadget lust and haven't had any issues. NextWorth also has a partnership with Target where you can take your gadgets in for recycling at participating Target Stores. Note that this special Pre-Black Friday promotion is on-line only.

As an Amazon Associate I earn from qualifying purchases.