Pre-Order the T-Mobile Samsung Galaxy S5 Now
The Samsung Galaxy S5, the next version of Samsung's flagship smartphone and competitor to Apple's iPhone 5s, is now available for T-Mobile users to pre-order for no money down.
T-Mobile, the United States' fourth-largest mobile carrier, began taking pre-orders for what's expected to be the most high-profile smartphone launch of the year besides a potential new iPhone 6 today. T-Mobile users with qualifying credit can order the Galaxy S5 for $0 up front and monthly payments of $27.50 with each of their wireless bills for the next two years. Of course, T-Mobile will allow users to pay off the device at any time and lower their monthly bill. Buying the T-Mobile Galaxy S5 without a T-Mobile Equipment Installation Plan would cost users $660 before taxes and fees.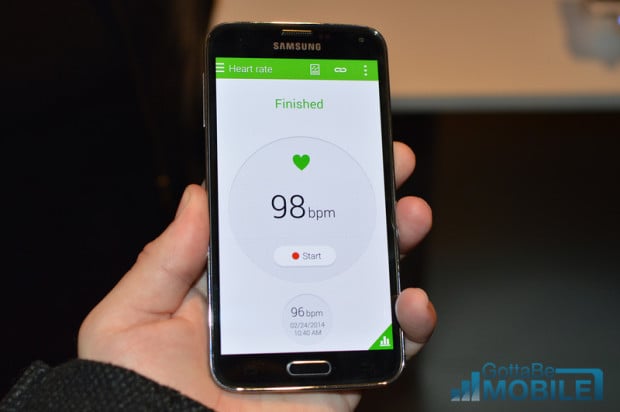 Pre-ordered Samsung Galaxy S5 devices will arrive on April 11th. Users ordering online have the option to pick up the Galaxy S5 in either Shimmery White or Charcoal Black.
The Galaxy S5 includes a number of interesting upgrades over last year's Galaxy S4 and Apple's iPhone 5s. First, there's the 16 megapixel rear-facing camera for recording high-definition video and photos. That's in comparison to the 8 megapixel camera included  in Apple's iPhone 5s. As such, users can expect crisper details and photos big enough to be used as wall posters if the need ever arises.
Samsung isn't just trying to upgrade user's smartphone camera experience. Its refreshed S Health app is backed up by an integrated hear rate monitor that'll kill the need for any third-party work out accessories. Samsung has also made the device itself water-resistant and dust proof so that users can take it almost anywhere without risk of damaging it. For example, teaser ads for the device showed users at the beach, somewhere where moisture and sand have been known to ruin smartphones.
Inside the phone is a 2.5GHZ quad-core processor and enough memory to make running Android 4.4.2 Kit Kat a breeze. Apps should open effortlessly, and users should be able to get to their apps more quickly thanks to the Samsung Galaxy S5's integrated fingerprint reader. Users can simply run their finger across the device's home button and skip using pin codes completely.
Read: 9 Things Samsung Galaxy S5 Buyers Need to Know
The Samsung Galaxy S5 has also been confirmed for Sprint, AT&T, U.S. Cellular and Verizon.