Pre-orders for Rocket League Xbox One Release Arrives
For those that can't believe the Rocket League Xbox One release date is quickly approaching, Microsoft is offering up new proof. Rocket League Xbox One is available to pre-order directly from the Xbox Store, finally.
Microsoft's Larry Hyrb confirmed that the Xbox Store had kicked off Rocket League Xbox One pre-orders this morning. Rocket League developer Psyonix originally had an agreement with Microsoft rival Sony. That deal kept Rocket League away from anything that wasn't a PC or Sony's own PS4 gaming console. Missing out on the game was a small blow for Xbox One owners, Rocket League went on to sell over a million copies. It's really a soccer game, but with customizable hot-rods and tons of out-of-the-ordinary arenas.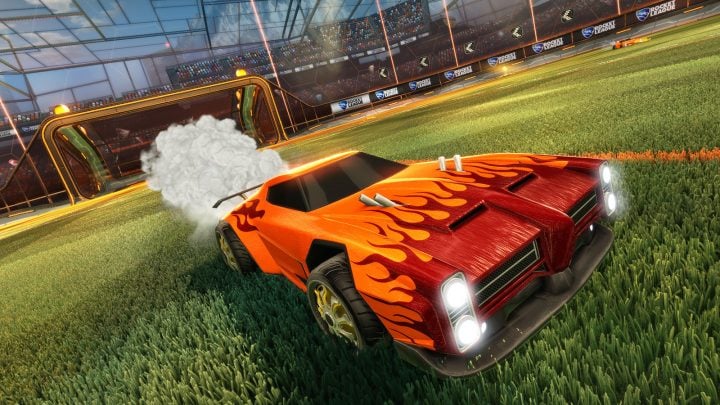 A Rocket League Xbox Store pre-order costs $19.99. To make the purchase, users have to be logged into the same Microsoft Account that they use on other platforms. Pre-orders can be placed through the Xbox Store, Xbox SmartGlass apps, the Xbox One itself and Xbox for Windows 10. Users with the Xbox One's Always Connected power mode enabled will find that the game downloads automatically to their console.
Just because the game download is available doesn't mean that it'll be playable. Rocket League Xbox One's release date isn't until midnight Eastern Standard Time on February 17th. Microsoft lets users download their pre-orders ahead of release so that digital buyers don't struggle to get the game downloaded on release day. Buyers are able to see the game in the My Games & Apps area, but not actually open it.
Rocket League Xbox One is very tiny by normal game standards. Users only need 2.5GBs of storage space available on their console to get the game downloaded. Even some independently developed video games take up more than that sometimes.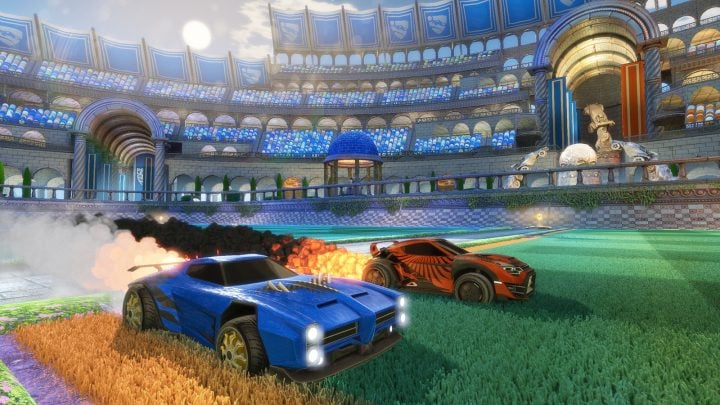 As for why there's no add-on content listed for the game, Rocket League Xbox One doesn't require that users purchase any. All of the game's previous content is included with the game at no additional charge.
Supersonic Fury, Revenge of the Battle-Cars and Chaos Run are all dumped into the base game for free. All 16 customizable cars are included with the base game too, but Microsoft and Psyonix have partnered to offer up two exclusive vehicles that users can't get on any other platform. One of these is a Warthog inspired by the vehicle of the same name in Halo. The other is an Armadillo from Gears of War.
Trinkets, stickers and tags will let players customize every bit of their Rocket League Xbox One racer. There's so many options that the Xbox.com website promises "billions" of different combinations.
Arenas haven't changed. DFH Stadium, Beckwith Park, Mannfield, Urban Station, Utopia Coliseum and Wasteland are in this version. Some of the maps have different variations. Game modes for Xbox One will include Exhibition matches for teams of two players, three players and four players. Unfair mode will allow one person to compete against teams of two players, three players and four players.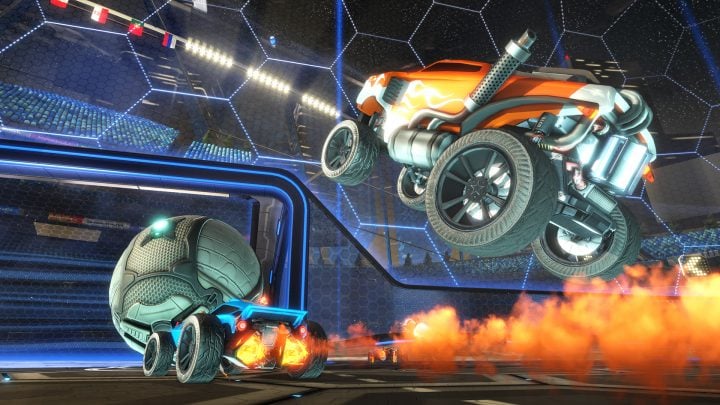 Online matches go as high as 8 players, with local multiplayer limited to just four players. Rocket League Xbox One supports Splitscreen play too, meaning four people only need a single console to play the game. Most games have dropped any kind of play on a single console, opting to force users onto gaming services instead.
Again, all of this content is available at nothing more than the standard $19.99 cost of Rocket League Xbox One. They're not timed exclusives or perks for only those that pre-order the game. Buying through the Xbox Store will be the only way to get Rocket League Xbox One. It isn't sold on disc. Neither were the other versions of the game.

This article may contain affiliate links. Click here for more details.