Prepaid T-Mobile iPhone Becomes an Even Better Deal
T-Mobile, the United States fourth-largest wireless carrier is back to implementing new policy changes and cost savings in the hope that users will buy their next iPhone, Android device or Windows Phone for use on its network. Late last year the company began letting subscribers of its post-paid services keep the data that they pay for. This morning T-Mobile announced DataStash for Prepaid users. Now almost anyone who has paid for data on T-Mobile can count on it being there for use later on.
T-Mobile announced that DataStash is coming to its prepaid users in a press release this morning. Beginning March 22nd, every holder of a T-Mobile prepaid account will get a DataStash that lets them save up to 10GB of 4G LTE access. Strictly speaking, T-Mobile doesn't have data overages on most of its plans, but does restrict the amount of high-speed data access users get based on their plan.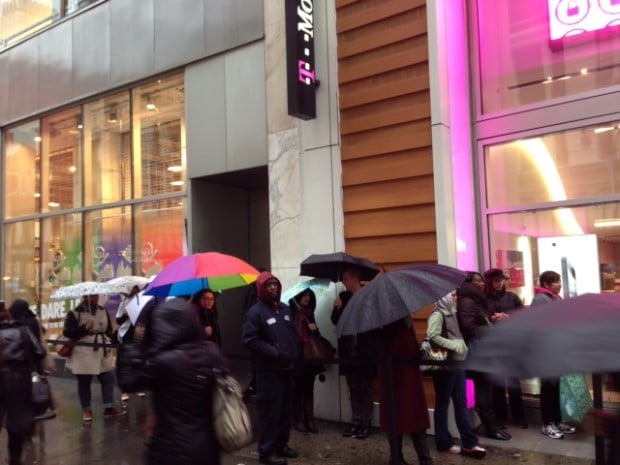 For example, those who have an entry-level Simple Choice Plan pay $40 for 1GB of 4G LTE data. Any of that 1GB of 4G LTE data they don't use going forward will stick be available if they should go over in the future. The same goes for the $50 Simple Choice Prepaid and $60 Simple Choice Prepaid plans. All told, the move is another way for iPhone, Android and Windows Phone users to save. On other carriers users could get hit with overages. Even on T-Mobile, users who went over their high-speed data allotment in a particular month bumped up their plans for more data access.
While announcing this new way for iPhone owners and more to save, T-Mobile also took shots at other wireless carriers for not moving in the same direction. In particular, Chief Marketing Officer Andrew Sherrard takes aim at Verizon for not offering anything like DataStash. "So they're basically going to ignore their customers, fairness and common sense out of corporate pride? I think Verizon has, remarkably, reached a new level of arrogance," Sherrard says. Sherrard also takes aim at AT&T for its Data Rollover perk. Data Rollover at AT&T is similar to DataStash, but users can only keep their unused data for a single month.
All told, rolling out DataStash to prepaid customers does seem like a customer-friendly move. In theory, it'll save real people the frustration of contending with T-Mobile's slower network when they go over their data allotment for a month or two. That being said, it is worth pointing out that like AT&T, T-Mobile is capping DataStash too. DataStash only lets users store away 10GB of data. Anything above that gets lost. For example, a user who only consumes 1GB of their 5GB allotment will reach that 10GB ceiling for DataStash pretty quickly.
Read: Why T-Mobile Has the Best iPhone 6 Deal
DataStash is just one of a number of consumer-friendly programs T-Mobile has rolled out as part of its Uncarrier initiatives. Having been denied a merger with AT&T by regulators, T-Mobile executives began unveiling new programs to address real issues customers have with their wireless carrier. To get users testing its 4G LTE network T-Mobile unveiled an iPhone trial program for potential buyers. It later bolstered its 4G LTE network expansion with built-in Wi-Fi calling for all of the devices it sells directly to user. In America, T-Mobile is the only national carrier that offers seamless Wi-Fi calling on any iPhone running iOS 8.
T-Mobile JUMP gives users smartphone insurance will letting upgrade to a new device more often than they could before. Users with JUMP have the option to keep their device if they like it or buy a new one once they've paid off half of its value. T-Mobile users could get a new iPhone every year thanks to JUMP and T-Mobile's monthly payment plans for smartphones and tablets.

This article may contain affiliate links. Click here for more details.