Prepare for iPhone 6 with iCloud for Windows
Pre-orders for Apple's iPhone 6 and iPhone 6 began early this morning. Those potential iPhone 6 buyers who were lucky might have managed to snag one of the new devices for delivery on launch day. Those who weren't lucky will probably need to wait a few weeks past the iPhone 6 launch day. Regardless of where you fit on the spectrum, chances are that if you plan on getting an iPhone 6 you won't want to waste time fiddling with Apples iCloud service.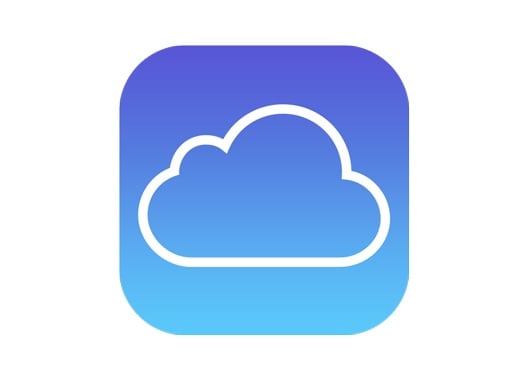 Here's how to prepare for your iPhone 6's arrival by setting up iCloud before it even arrives.
You Can't Get an iCloud Account Before Your iPhone 6 Arrives
Before we begin it's important to note that you'll need to create an iCloud account for this tutorial. Normally, GottaBeMobile would breakdown account creation and then dive into the tutorial. Unfortunately, that's not the way iCloud works. Instead of making iCloud available to anyone and everyone who might want it, Apple opted to keep iCloud mostly locked to its platforms. What that means is that if you don't already have an iPhone, iPad or iPod Touch, you'll need to wait to use this tutorial to sync anything from your Windows PC.
Once you have your device, just complete the setup process on your device and you'll be provided with account credentials for iCloud. You can still download and install the tool even if you don't have an iCloud account and save yourself a bit of time.
Download & Install the iCloud for Windows Tool
First, let's download the iCloud for Windows tool. Click here to open Apple's iCloud support page.
Click the Download button at the top of the page.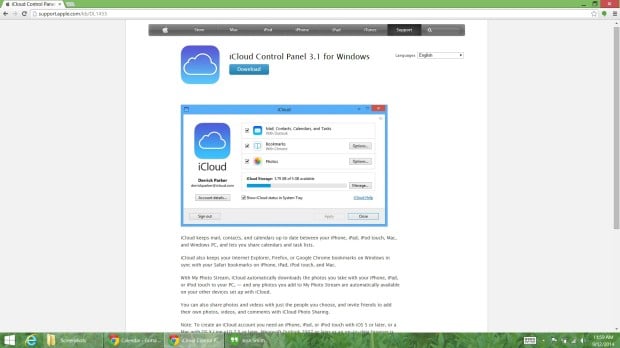 Now wait for the software to download. In Chrome, which is the browser we're using, downloads show up at the bottom of the window when they're complete. Most versions of Internet Explorer do the same. Click on the install file when it's finished to begin the installation process.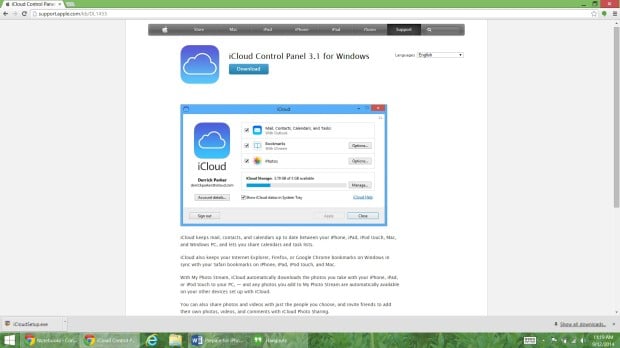 Click Next.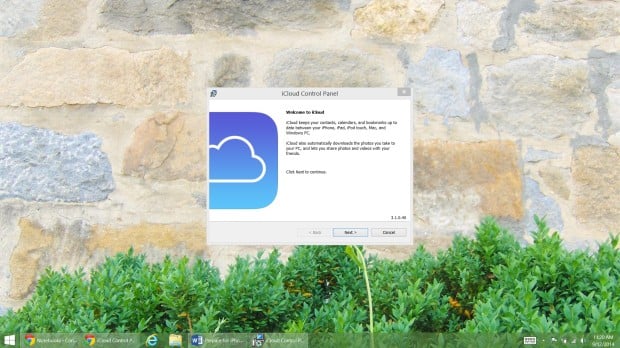 Click I Accept the terms in the license agreement. Then click Next.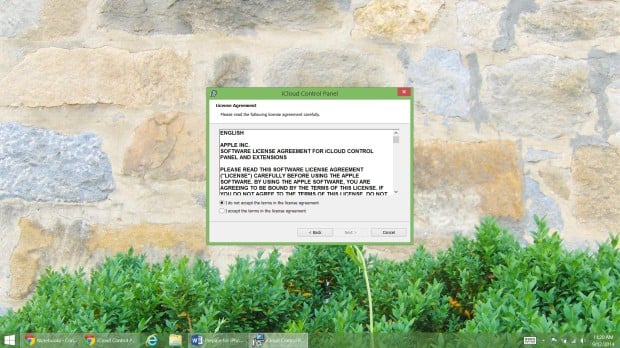 Click Install.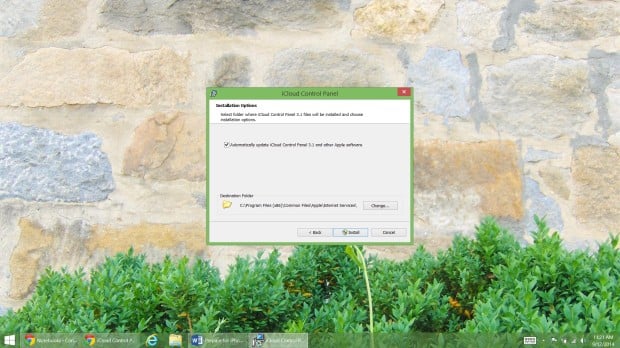 Now let the installation files run. Don't walk away from your Windows PC during this. Depending on what version of Windows you have, you could be prompted to approve any changes. The machine we used for this tutorial prompted us for approval twice.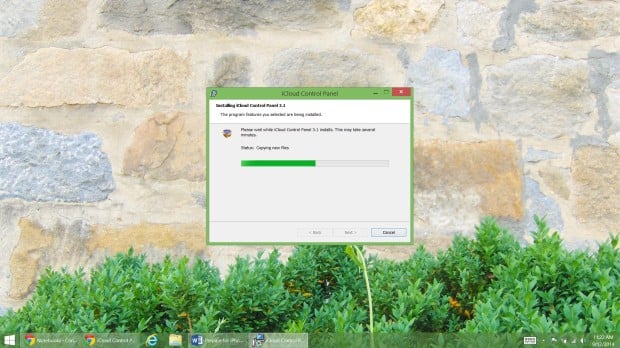 Once the installation is complete click Finish.
Now here's where it gets interesting. iCloud remains one of the apps that when installed, requires Windows 8 – and every other version of Windows that supports it – to restart their computers. Once the installation is finish you'll be asked if you want to restart your computer now or later. Make sure that you're not working on anything that can't be saved and click Yes.
After you're computer has been restarted you may have to log in again. A half-size window with the iCloud logo should immediately appear. Enter your Apple ID username and password into the iCloud utility. Again, you'll need to have already configured an iCloud Account using your Apple ID username and Password from a Mac, iPad, iPod Touch or Phone if you had one previously.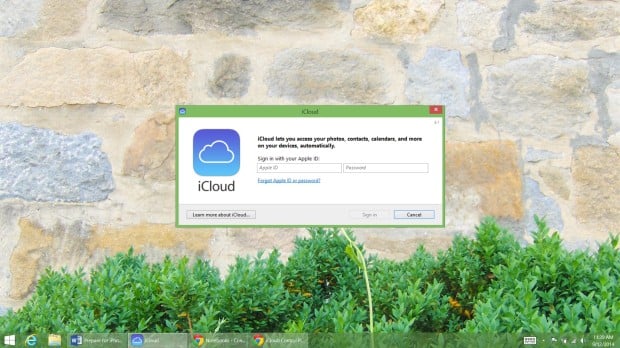 In iOS 7 you can create an iCloud Account by diving into your device's Settings and looking for iCloud. The same is true, once you get your new iPhone 6 or iPhone 6 Plus. There's no way to create an iCloud Account on the web.
Click Don't Send when prompted to automatically share your experience with Apple.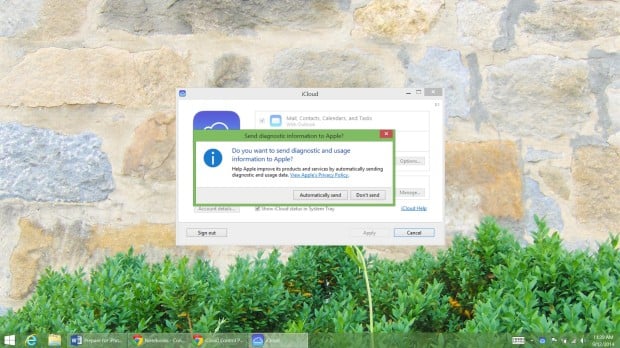 And there you have it. iCloud syncing is now available on your Windows PC, enabling you to edit contacts and capture photos and have them effortlessly sync between it and your iPhone 6.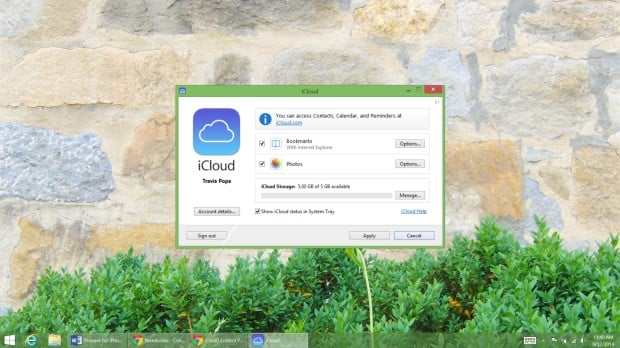 Click on the options for Bookmarks to decide what browser you'd like iCloud to sync your favorites from. This functionality isn't limited to one browser – you can sync favorites from Internet Explorer, Firefox and Chrome.
Click on the options beside Photos to configure it. By default iCloud will sync over any photos uploaded by your computer or taken with your iPhone 6. Apple calls this photostream and it works sort of like a universal camera roll. You can also specify what folder you want your photos downloaded to.
You may be wondering where your Contacts, Calendar and Reminders are. By default, the iCloud Control Panel syncs this information, but only if there's a copy of Microsoft's Outlook personal management app installed on the PC. If there isn't it'll just redirect you to the online iCloud portal.
The iCloud Control Panel's most essential function is to let you manage how much storage space you have in iCloud. Use the meter at the bottom to keep an eye on how much space you're using. Click the Mange button to look at iCloud backups of your phone.
Depending on your use case, you may need to add some iCloud storage at some point in the future. You can do that from here too. Good luck with iCloud.

This article may contain affiliate links. Click here for more details.