Previews Spill How Windows 10 Store Will Feel Like iTunes
Microsoft's Windows 8 operating system forces users to hunt down potential purchases in a few different areas, but two new preview apps for the upcoming Windows 10 operating system indicate that won't be the case going forward. In fact, it appears Microsoft is adopting a very iTunes Store-like approach to rebuilding its Windows Store.
This week Microsoft began letting users download its Music Preview and Video Preview apps for Windows 10 from the new Windows Store. This is the first time the apps have been seen publicly since Microsoft showed off one of them at its Windows 10 Media Briefing back in January to showcase support for OneDrive cloud storage streaming.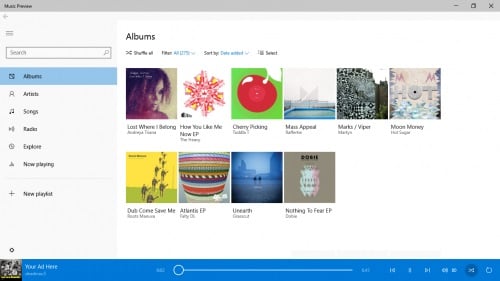 Both Music Preview and Video Preview have some big changes, but the first thing users are likely to pick up on is Microsoft's decision to remove store access from the Video Preview app. In a blog post about the new apps on the Windows Blog, Microsoft confirms that there's no store access in the app because it plans on moving that over to the Windows Store in the near future. Earlier in the post, Microsoft even confirms that it plans to eliminate the Music Store in the Music Preview and move that functionality to the Windows Store app too.
When it finally delivers on these promises, Microsoft will have finally succeeded in combining the different parts of its once scattered ecosystem into a proper competitor for the iTunes Store. Originally, Apple only offered music through the store, but quickly evolved it into a digital retail power house. Today, the iTunes Store holds music, movies, television shows, books and even podcasts. The store is one of the best examples of digital retailing done right, everything in the store has reviews and ratings. Having everything you can purchase in one place is what people expect these days.
Microsoft tried its hand at a combined media store a few years ago with Zune. Zune offered podcasts, movies, television shows, subscription music downloads and subscription music purchases before Microsoft broke it into pieces for the Windows 8 Xbox Music and Xbox Video apps.
The Music Preview app still has its store and Xbox Music Pass subscription access now, but it won't in the near future. There isn't a lot of new functionality available in the app yet, but Microsoft has laid the foundation for what's to come already. Anything and everything that used to require the Settings Charm to access is in the sidebar of this new Microsoft Music app for Windows 10 users. Additionally, the collection view has been eliminated in favor of direct access to Artists, Albums and Song areas. This move makes the Music app for Windows 10 work similar to the iTunes Music app. Microsoft plans to add better settings a compact mode and easier navigation in later Music Preview app updates. There'll also be a dark mode for those who prefer that. Right now, the entire app is white and blue.
The Video Preview app looks and works the same way. Microsoft plans to add movie reviews, cast line-ups and support for offline video playback in a future update.
Besides a move to a more iTunes Store-like approach to selling media, it's worth noting that Microsoft appears to be in the middle of a branding change. These apps were once known as Xbox Music and Xbox Video, but they are both blank where those logos used to be. What Microsoft will change the name to remains unclear.
Microsoft plans to upgrade Music Preview and Video Preview on an ongoing basis, it seems. Windows 10 will launch for notebooks, desktops, tablets, 2-in-1s and smartphones free sometime this summer.