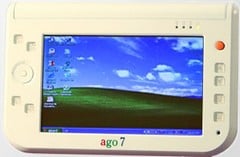 Looks like there is some price competition brewing on the UMPC front. Agopc has announced that it is selling the ago7 UMPC for $799 configured with 1Ghz processor, 512mb Ram, and a 40GB Hard drive. This is essentially the same UMPC as TabletKiosk's first entry into the UMPC market, the eo v7110. The $799 price tag is $200 less than TabletKiosk's model. Here's a comment from agopc's CEO, David Caroll:
"At agopc our mission is to broaden the UMPC's appeal," says President and CEO David Carroll. "At this price point, those new to the platform will find a high quality UMPC like ago7 very attractive." Mr. Carroll noted that ago7 now costs nearly $200 less than an identically configured model from their competition.
It will be interesting to see if this has any effect on prices anywhere else. Here's a link to the press release from agopc and here's a link to the product page.

As an Amazon Associate I earn from qualifying purchases.