Price Drop For Fujitsu P1610
Those interested in the Fujitsu P1610 Tablet PC have some good news to celebrate. (Or is that calculate?) Apparently there has been a price drop of $120 for P1610s configured with 1GB of memory. Here's a shot of Rob Bushway and James Kendrick both using their Fujitsu P1610s at the Windows Vista Labs at CES in January.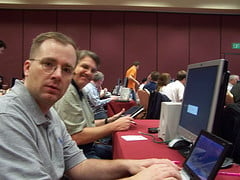 Note also that Allegiance Technology Partners has similarly dropped their price on the same unit. And if you don't know, ATP allows you a 48 hour trial period before you buy. Here's the link to ATP and here's the Fujitsu product page.

As an Amazon Associate I earn from qualifying purchases.