Pricey TouchPad Accessories Revealed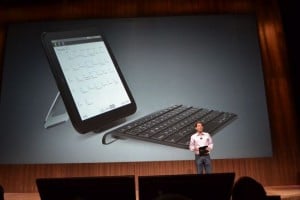 HP is revealing pricing information for its TouchPad accessories, including a Bluetooth keyboard, wall charger, case and Touchstone charging dock.
The company also revealed that the final build of the TouchPad won't have a special gesture area surrounding the screen, as does the original Palm Pre and the competing Research in Motion BlackBerry PlayBook tablet, but would still recognize a swipe up for multitasking to reveal the cards user interface and to close applications.
At $80, the Touchstone dock is the most expensive, and comes with a USB cable and AC adapter in the box. Purchased solo, the AC adapter and USB cable will retail for $30. The Touchstone dock allows users to wirelessly charge their Pre tablets without having to plug in a cable, and can work in either landscape or portrait orientation. The Touchstone dock looks like a book stand.
The keyboard is Bluetooth-enabled, and comes with specialized webOS keys. It will retail for $60. The keyboard utilizes 2 AA batteries and can last 12 months on a single charge.
A case will also be made available for $50, which will serve double-duty as a stand as well, similar in concept to Apple's Smart Cover.
Via: Pre Central and Engadget

As an Amazon Associate I earn from qualifying purchases.