Prong PocketPlug Case Review: Charges iPhone 5s with Plug in Back
The Prong PocketPlug fits the new iPhone 5s and older iPhone 5, and puts the AC wall plug in the back of the case so users don't need to carry around a phone charger. People who own battery cases like the Mophie Juice Pack Plus will get the concept except for one thing: the case doesn't include a battery backup for the iPhone.
iPhone 5s and iPhone 5 owners install the Prong PocketPlug ($69.95) on their phone by sliding the phone down into the case. It attaches to the Lightning connector on the phone which routes power from the prongs on back to the phone's connector. A second piece fits over the top part of the phone to protect it with a beefy black case. A white version will ship in November 2013. The textured outer shell gives some grip as the user holds the iPhone.
When the iPhone needs to charge, the user folds out the two AC wall outlet prongs and plugs the case directly into the outlet. This means users don't need to bring a charging cable. This might cause a problem since some people need to use their phone while its charging. The company put a micro-USB port on the bottom corner of the case so users can still hold their phone and use it while charging.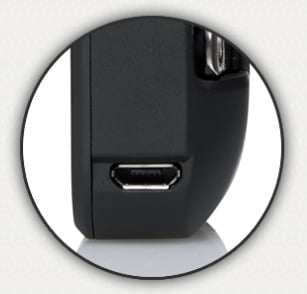 The bottom part of the case covers the stereo port and the speakers. Openings on the front of the PocketPlug lets the audio escape the case and even amplifies it a little. A hole give access to the stereo plug port, but it forces the user to plug their headphones into an extension adapter.
We loved the idea of the Prong PocketPlug, but found a few problems. First, the case adds bulk to the phone, which we expected. However, it doesn't add battery life. The extra size comes from the electronics needed to put the AC plug on the back. Since it's already bigger, why not make it just a little thicker or longer and add some a battery for extra power?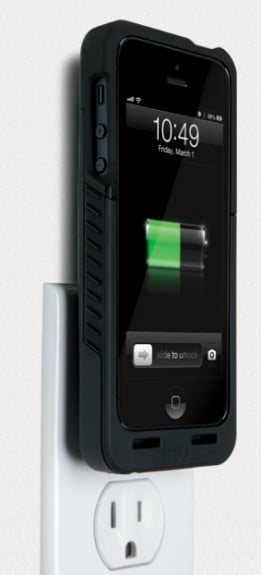 We'd rather carry a charger than use the Prong PocketPlug, so we can't recommend it. It works, so iPhone owners who hate carrying a charger will like the Prong PocketPlug.
Prong sells a model for the iPhone 4 and 4s ($59.95) as will sell one for the Samsung Galaxy S3 soon.

This article may contain affiliate links. Click here for more details.