Protect Your Bubble Launches Gadget Insurance In Time for iPad 3 Release Date
We all love our gadgets, but the sad fact is that they break, get lost or are often stolen. Standard warranty options from Apple and third parties don't always cover every possible problem that could render your iPad 3 or iPhone 4S useless.
A new insurance company wants to solve the problem of complicated gadget protection plans with exclusions by offering a simple gadget insurance offering that covers loss, theft, broken devices and even covers water damage. They'll even cover your jailbroken iPhone without any qualms.
(Read: iPad 3 Release Date: What to Expect from Apple)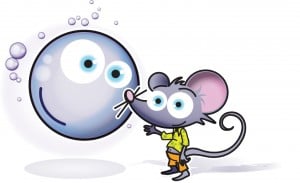 Protect Your Bubble has been insuring gadgets and much more in the U.K. for years and today, just in time for the iPad 3 release date, they are ready to protect any smartphone or tablet you have. When we spoke to Protect Your Bubble earlier this week, they told GottaBeMobile that they'll be ready to protect your iPad 3 when it is released.
While you can buy Apple Care for your iPad 3 and iPhone 4S, and carriers offer insurance options for most Android phones, Protect Your Bubble covers pretty much anything that could go wrong with your gadget. The following possibilities are covered.
Lost Device?  We'll replace it if your device disappears.  We only ask that you return it to us if you find it.
Cracked Screen?  Dropped in water?  If your device gets accidentally damaged, send it to us and we'll send you a replacement.
Stolen From You?  We'll send you a replacement device if you become a victim of theft or burglary.  Just send us a police report, and your device is on the way.
Mechanical Breakdown?  We want you to have a working phone for the life of your carrier contract.  If you device breaks down after the manufacturer's warranty expires, send it to us and we'll send you a replacement.
Protect Your Bubble offers gadget insurance for $9.99 a month for a tablet and $7.99 a month for a smartphone. You can opt to pay monthly or in a lump sum to save more. You have 90 days after you purchase your device to sign up for insurance, longer than SquareTrade and AppleCare offers.
Coverage isn't limited to smartphones and tablets. You can buy insurance for all manner of gadgets, which makes the multi-device discount attractive. There is a 10% discount on each additional gadget you insure, so you can save on insuring your iPad 3, your iPhone and your spouse's Android, game console and more.
If you need to file a claim, Protect Your Bubble will ship you a new device with overnight shipping, to minimize the time you are without your gadget.
Protect Your Bubble tells GottaBeMobile that there will soon be a free Android app for insured phones that provides Lock/Wipe/Locate functionality.
If you need to file a claim, you need to pay a $100 deductible for a smartphone, which means the total cost of a plan could reach $300, but that's still half the price of buying an iPhone off contract. The iPad has a $75 deductible.  For users who find themselves with broken, stolen or lost gadgets it is worth considering.
Do you plan to buy insurance for your new iPad 3 or iPad HD?

As an Amazon Associate I earn from qualifying purchases.