PS4 Black Friday Bundle In Stock at GameStop Online Store
GameStop is now selling its PlayStation 4 Black Friday bundle online while supplies last. The company is also offering the PS4 at its retail locations, but if you aren't already in line for one you're probably too late as the stores opened at midnight and quantities are limited. The GameStop Black Friday PS4 bundle includes two games and two controllers.
The PS4 is one of the hottest items this holiday season, selling out virtually everywhere when it launched on November 16. Since then, retailers have struggled to deliver additional units to those who were unable to secure PS4 pre-orders. Rather than discount the PS4 like most other items on Black Friday, retailers are simply promoting the fact that they have a few to sell.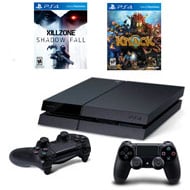 The GameStop PS4 bundle costs $609.95 and comes with two DualShock 4 controllers, Killzone: Shadow Fall, Knack, and a 1-year PlayStation Plus membership. That means buyers will be paying full price for each of the bundled items. Unfortunately, GameStop won't sell the base PS4 console or allow its customers to choose alternate games. Titles like Battlefield 4, Call of Duty: Ghosts and FIFA 14 are all in greater demand than the titles included in the GameStop PS4  Black Friday bundle.
The base PS4 console costs just $399.99. At least some PS4 buyers may pay the steep premium even if they don't want the included games to ensure they get a console before Christmas.
The PS4 was available at some Walmart stores when the company's Black Friday sales kicked off at 6PM on Thanksgiving. Quantities were limited however and we've heard reports of stores selling out quickly. Amazon.com and other major retailers are currently sold out of the PS4.
The GameStop Black Friday PS4 Bundle can be found at GameStop.com.  The site currently states that the PS4 will ship within 24 hours. We don't expect GameStop to be able to keep that promise for long.
The XBox One is the PS4's rival and also tough to come by, though it seems to be a little easier to get ahold of one on Black Friday. The XBox One costs $499 without any games, but the $100 premium is justified since it comes with the Kinect Sensor, a device that allows users to play games and navigate entertainment apps using gestures rather than controllers. The XBox One is currently available at Rakuten.com.

As an Amazon Associate I earn from qualifying purchases.