PS4 Cyber Monday Bundle Available at Walmart Now
Walmart is now selling its Cyber Monday PS4 bundle on its Web site for $517. Walmart doesn't actually have the PS4 in stock and ready to deliver a the moment, but is guaranteeing customers that order the PS4 today will get them in time for Christmas.
Though not having the console in stock and ready for delivery isn't ideal, Walmart's PS4 Holiday Solution is the best hope for those looking to the PS4 before Christmas. No other major retailer is currently selling the PS4 online as pre-orders or for immediate delivery.
Read: PS4 Review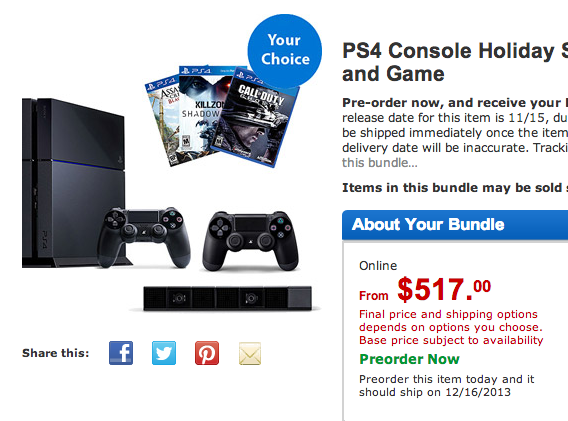 The Walmart PS4 Holiday Solution doesn't offer any discounts. Instead, it simply requires PS4 buyers to choose one game and one accessory. The  accessories to choose from are the DualShock 4 controller and the PlayStation Camera. Shoppers can choose one of the following games: Call of Duty:Ghosts, Killzone: Shadow Fall, Knack, Battlefield 4, NBA Live 14, LEGO Marvel Super Heroes, Angry Birds Star Wars, Injustice: Gods Among Us, Just Dance 2014, or Need for Speed: Rivals. For a $60 up-charge Walmart will include Call of Duty: Ghosts Hardened Edition. An extra $15 fee is added for those who want Skylanders Swap Force Starter Pack.
The PS4 console carries an MSRP of $399.99, though major retailers have been virtually sold out of it since it launched on November 15. Retailers such as Walmart are bundling the PS4 with games and accessories in an attempt to maximize sales rather than allowing customers to buy them elsewhere. Fortunately, Walmart is allowing shoppers to choose their own games. GameStop is in the midst of selling an XBox One bundle that includes three games of the retailer's choosing.
Those who opt for the Walmart PS4 Console Holiday Solution bundle will have to take Walmart's word that it will deliver in time for Christmas. As the world's largest retailer the company runs the risk of overselling the PS4 units, especially considering that there's no competition for PS4 sales at the moment. Hiccups do happen when dealing with gadgets on such a large scale. For example, many Black Friday shoppers ran into trouble when they tried to redeem their Black Friday One-Hour Guarantee items before the December 1 deadline. Thankfully, Walmart extended the deadline to help ease the headaches, but those expecting a PS4 before Christmas won't get a second chance to put a PS4 under the tree.
Above is the latest PS4 in-stock status from Nowinstock.net. The only alternative listed besides the Walmart PS4 Cyber Monday bundle is eBay, which is where a lot of PS4 scalpers are marking up the console by hundreds of dollars.

As an Amazon Associate I earn from qualifying purchases.