PS4 Gets Teardown Treatment, Is Not an iPad
As expected, the PS4 is now in the hands of the folks at iFixit, and they took the brand-new gaming console and did what anyone would love to do: tear it down to it's very last component. We've been hearing a lot from iFixit lately — mainly because there's been a lot of new Apple products lately. This time, though, it's a gaming console, and unlike the new iPads, the PS4 scores high in repairability.
iFixit gave the PS4 a repairability score of 8/10, which makes the console really easy to take apart and repair things on the inside. There's no adhesive on any components, which makes disassembly and reassembly really easy, and you can quickly access the hard drive bay and replace it with your own hard drive if you want to (even a solid-state drive will work).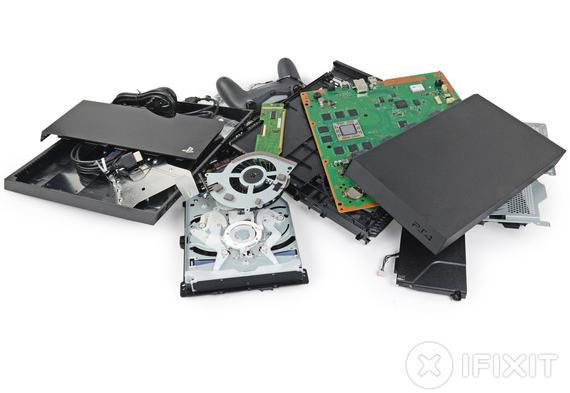 Of course, there are some downsides, though. Sony is discouraging users from opening up the console to play around with things, so there are a few security screws and "tamper-evident" seals that make the teardown process a bit cumbersome. Plus, in order to clean out the fans from dust buildup, you'll have to take apart the console quite a bit just to get to the fans in the first place.
iFixit also noted an important issue with the HDMI port. Apparently, there's a small metal obstruction in front of the HDMI port on some PS4 units, and this could potentially create some problems if you're not careful when you first plug in an HDMI cable, like accidentally bending the pins, but iFixit says that bending back the pins does the trick.
Teardowns are nothing new, and it's pretty much tradition with every new gadget that gets released, but gaming consoles are a different story in a way. Essentially, with this PS4 teardown, this is hardware that will be staying the same for at least five years, which is eons longer than the life cycle of a smartphone or tablet. The PS4 comes with an 8-core AMD "Jaguar" CPU, 8GB of RAM, a 500GB hard drive, 802.11n, Bluetooth 2.1, Ethernet and USB 3.0. Is the PS4 future-proof enough to last a solid five years at least? Probably not, but it's certainly more powerful than its predecessor.

As an Amazon Associate I earn from qualifying purchases.