PS4 Remote Play: Does Sony have a Leg Up?
Most gaming fans will tell anyone who'll sit still about the console they prefer to play video games on. In fact, most gamers consider their choice of which video game console to play as a sort of life altering decision, a choice that defines who they are and what type of games they prefer. Me? I'm an Xbox gamer through and through. That's why its pains me to say that the PS4's Remote Play features are completely awesome.
For those who aren't yet familiar with the feature, it sort of works like a screen away from a your PS4. Using a PlayStation Vita handheld, users can connect to their PS4 and play their games using its controls and screen. They can also chat and send messages with to friends who happen to be using the PS4 too.
For example, should a family member need to use the television a PS4 is connected to, a user could simply connect to the console using their PS Vita and a Wi-Fi connection. Then they could continue playing for as long as the Vita's battery lasts.
To make matters even better, the PS Vita can be used to wake up the PS4 without it actually having to be on first. Sony's also enabled the feature for PS Vita users who aren't on the same network as the PS4 itself. Users could literally be miles away and still interact with their console if they have a decent connection on both ends.
Sony says it will work best on the same network, but, offers the following statement about using Remote Play on another network.
"We strongly recommend that Remote Play be used within the same WiFi network where PS4 is connected. Remote Play may or may not work over a wide area network. For Remote Play to function over a wide area network, a robust and stable WiFi connection and broadband Internet connection is required, and the local area network where PS4 is connected must be configured to permit the PS Vita system to access PS4."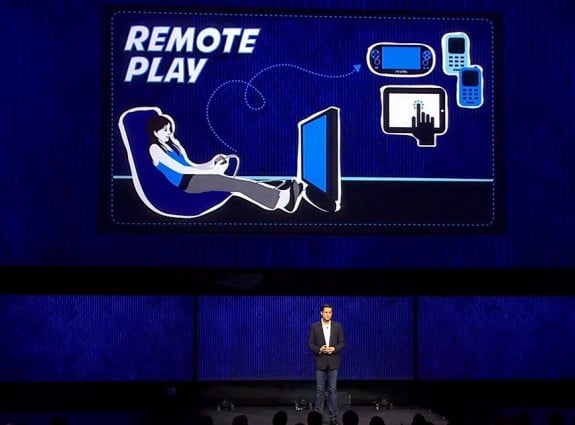 Read: Sony Will Require PS Vita Remote Play for All PS4 Games
For a console launch that seems to be marked by absent features like music and video playback outside of Sony's own Unlimited services, Remote Play on the PS4 is unique. It's a true hidden gem. The gem is made all the more illustrious because Microsoft's Xbox One doesn't come close to this. There isn't some imitation of the feature, or a way of getting the same kind of functionality from Xbox One and say a Windows Phone. There's literally zilch.
No, I'm not saying that users should go and purchase a PS4 because of Remote Play. I'm in no way suggesting that PS4 users run out to buy a PS Vita to only interact with their console. There are a couple of catches. Gamers can't use Remote Play to access their PS4 if their PS4 Vita is currently relying on 3G and spending money on a PS Vita just to play a PS4 seems a bit overzealous.
Still, Remote Play is useful and it showcases the breadth of the ecosystem Sony has built around its gaming devices and services. Neither of those are a bad thing. The PlayStation 4 goes on sale beginning November 15th for $399. Users looking to use remote play will need a PlayStation Vita for an extra $199.

As an Amazon Associate I earn from qualifying purchases.