PS4 vs Xbox One – All the 2016 Details
Some had predicted that the living room video game console was on the brink of extinction. Cheaper, more powerful PC gaming components, smartphones and tablets were going to doom the industry. That never happened. The Xbox One and PS4 are more successful at this point in their life-cycles than the consoles they replaced. There are more games coming to both platforms this year and next. The PS4 and Xbox One are getting new incarnations in a dangerous battle to see whether Sony or Microsoft can deliver the most powerful game machine possible.
And new, more powerful hardware that supports higher-resolution games is just one of the fronts that the Xbox One and PS4 are battling on in 2016. Since 2013, both companies have introduced digital game rental services into their ecosystem. Sony is putting a huge amount of resources behind building out a decent game portfolio for its PlayStation VR headset. Microsoft is finally making use of its advantages in PC gaming to leverage Xbox Live and its stable of exclusive games for Windows 10. On top of all this, there are exclusives to consider and gaming services to take into account.
The Xbox One and PS4 launched in 2013, but deciding which is better for your needs has only gotten more nuanced.
PS4 vs Xbox One – Hardware
Three years is a long time to keep the same hardware design. By this point in other console generations, there'd be smaller versions of each console that take advantage of changes in hardware. They'd be priced lower, but offer a few more options. It wasn't until years in that the Xbox 360 picked up HDMI support, for example. For now, there aren't any significant hardware changes that players should take into account when they head into a retail store to buy a new console.
Design
The Xbox One and PS4 are still the same. Sony's offering still has its angular body, carved in black plastic. The slot-loading Blu-ray drive is still there. It can be laid on its side, or propped up with a stand. Two USB ports sit on the device's front along with that Blu-ray drive, with all the other essential ports located in the back. Its power plug doesn't connect to an unsightly power brick, unlike the Xbox One.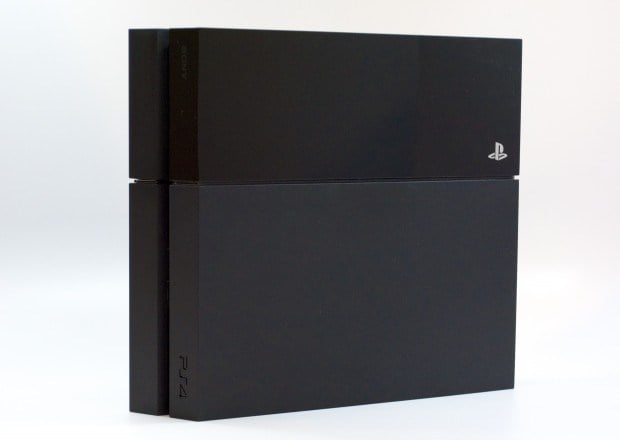 There's Bluetooth for connecting to the console's dedicated DualShock 4 controller. Wireless 802.11 N is supported, but there's also an Ethernet jack for getting the best speeds possible. It is worth noting that the PS4 supports 4K video streams and pictures, something that no other video game console does today.
The Xbox One hasn't changed much either. It still resembles a giant VCR. Its Blu-ray drive remains intact up front, along with a USB 3.0 port on the side and two more USB ports on the back. All other essential ports remain on the back. There are two HDMI ports so that buyers can run their cable boxes through the console and watch television while gaming. An infrared receiver port, SPDIF audio out, Kinect port and power port are back there, too.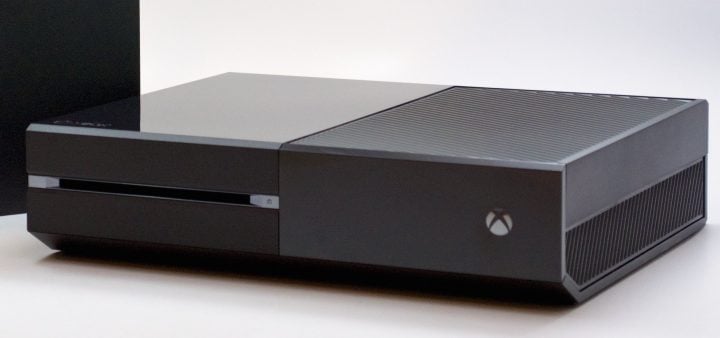 The Xbox One also supports 802.11 n wireless connectivity, but doesn't offer Bluetooth connectivity.
Today, the hardware is the same, but rumors were right about Microsoft and Sony refreshing hardware. Sony confirmed in early June that it has plans for a new PS4 console with significant hardware upgrades. The extra power will allow the PS4 to deliver games in 4K resolution, just like it can with video content. Sony didn't talk about the console at this year's Electronic Entertainment Expo.
Read: PS4 Neo Release Confirmed: 5 Key Details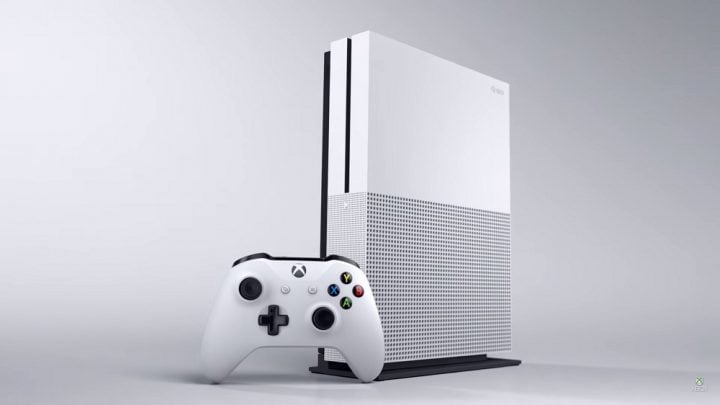 The Xbox One S and Xbox Scorpio are Microsoft's new hardware bets. The Xbox One S supports 4K video streams. It also offers hardware changes that put it in line with the PS4. The controller that comes with the console is Bluetooth, and has an integrated power adapter for small entertainment setups. It can also be laid on its side or upright with an optional stand. HDR technology will allow the console's games a wider spectrum of colors than what's available today. It goes on sale this coming August for $399 with 2TBs of storage. Cheaper options with less storage will arrive this fall.
Read: 4 Reasons to Buy an Xbox One S & 3 Reasons Not To
With Xbox Scorpio, Microsoft hopes to deliver the most powerful console on the market. It'll be capable of 6 teraflops of calculations, the company says, which really just means it'll outstrip the processing power of the current Xbox One by a wide margin. Xbox Scorpio will support virtual reality headsets, despite Microsoft not offering such an accessory right now. The company says that it hasn't worked out those partnerships just yet. Cost and design remain a mystery, but we do know the console launches sometime at the end of 2017.
Read: Xbox Scorpio Release Confirmed: What You Need to Know
Controllers
The PlayStation's DualShock 4 remains as solid as it's ever been. Highlights include an integrated Share button for sending out videos and pictures over PlayStation Network, a touchpad that some games make use of for an added bit of control, Bluetooth connectivity and an integrated headset jack. It also features a rechargeable battery.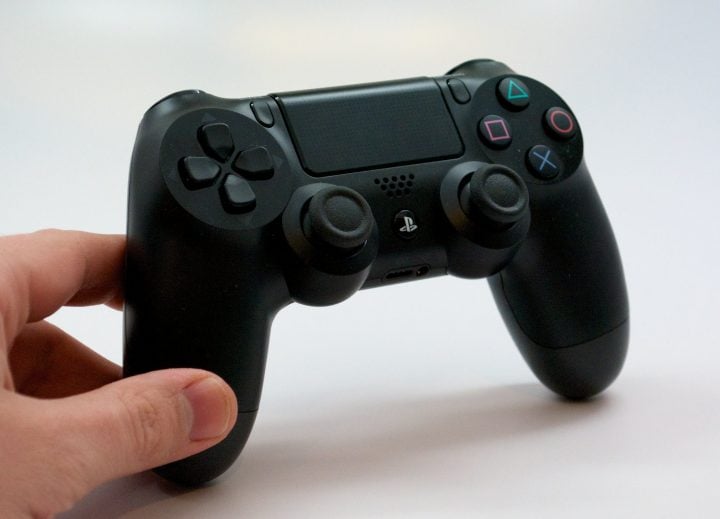 The Xbox One Controller is a never-ending roller coaster of evolution and upgrades. The controller that comes with the current Xbox One has a headset jack, but lacks Bluetooth compatibility and a rechargeable battery. The new Xbox One Controller that Microsoft plans to launch with the Xbox One S has a headset jack and supports Bluetooth connections. Bluetooth is great for using your console controller with your PC or tablet without dongles and extras.
Microsoft also offers the Xbox One Elite Controller, an enhanced version of the controller that's available today with metal joysticks that can be replaced and customized. It also features paddles on its rear, cutting down the time it takes players to complete an action in a game, the company says. It sells for $149.99 and comes in one of the console's bundles.
PS4 vs Xbox One – Games
One major component of any video game console is its games. Both the Xbox One and PS4's exclusives are aimed at getting users to buy its specific hardware. That makes sense, given that the overwhelming majority of video games launched by third-party publishers are available on every platform.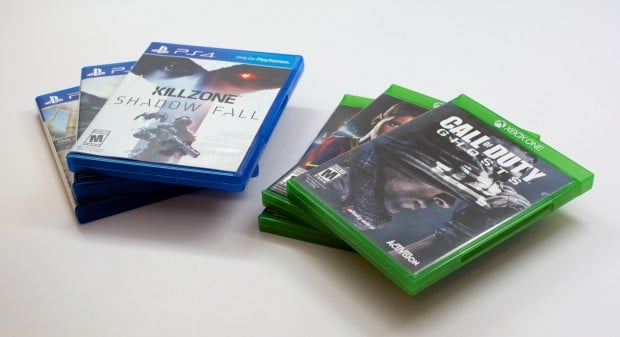 Exclusive Games
Sony's line-up of exclusive games isn't that extensive for 2016. There is No Man's Sky coming sometime this summer and Grand Turismo Sport coming this fall. Sony is again relying heavily on deals with third-party developers to lure in PS4 buyers. It appears that it'll offer some exclusive content with the upcoming Destiny Rise of Iron expansion. Call of Duty: Infinite Warfare will get downloadable content on the PS4 first. That's a continuation of a deal between Sony and Activision following the launch of Call of Duty: Advanced Warfare.
Read: PlayStation VR Release Date: 7 Things Buyers Need to Know
This year's exclusive line-up for Sony is anemic, but looks to pick up. Exclusive Batman, Spider-Man and God of War titles were shown at E3 2016.
The company is mainly concentrating on delivering PlayStation VR games this year. PlayStation VR is a virtual reality headset that'll allow PS4 owners to be immersed in their game worlds. The headset includes a display that blocks out everything else besides footage from games. The headset, Move controllers and a collection of mini games will go on sale this fall separately from the PS4 for $399.99. The Xbox One doesn't have anything like the PlayStation VR headset yet.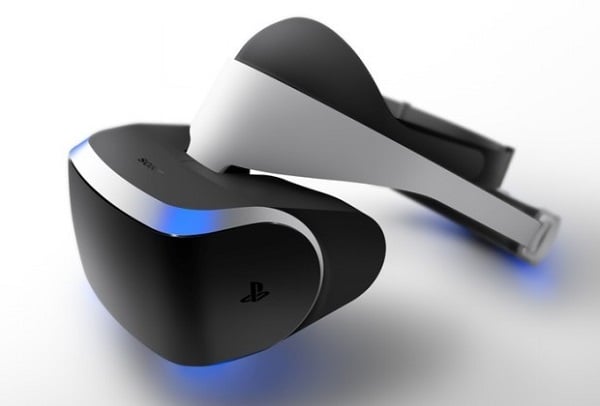 On the Xbox One there are some exclusive deals too. The Division, gets its first two expansions there a month before the launch on the PS4. Microsoft plans to launch Gears of War 4, ReCore and Dead Rising 4 are all set for 2016. Coming in 2017 are Crackdown 3, Halo Wars 2 and Sea of Thieves. Through EA Access, Xbox One owners get access to Battlefield 1 early.
Kinect, the sensor that allows Xbox One owners to play games without a controller, is still around, but is now focused on enabling voice commands for navigating the console and chatting with friends. It seems Microsoft doesn't have any Kinect games in development.
EA Access and PlayStation Now
EA Access is the service that lets Xbox One owners get access to a special assortment of games published by Electronic Arts for $4.99. It's only available on the console and Windows PCs. By comparison, the PS4 has its own digital games rental service. It's called PlayStation Now, and offers access to more than just a single publisher's games for $19.99 a month. The service has cheaper timed rentals, too.
Backwards Compatibility
Microsoft boasted that its Xbox One Backwards Compatibility program wouldn't charge users for access to the games that they already own from the Xbox 360. Roughly a year after the program kicked off and it's still going strong. An impressive amount of games are available through the program. Slide your disc into your console and a digital version is unlocked at no charge.
Read: Xbox One Backwards Compatibility: Fallout New Vegas & More
Sony makes PS3 games available through PlayStation Now, which means that you need to pay again for the games that you already owned on the PS3, if you didn't keep your console. A limited number of PS2 video games are available in a separate program that cost $10 each.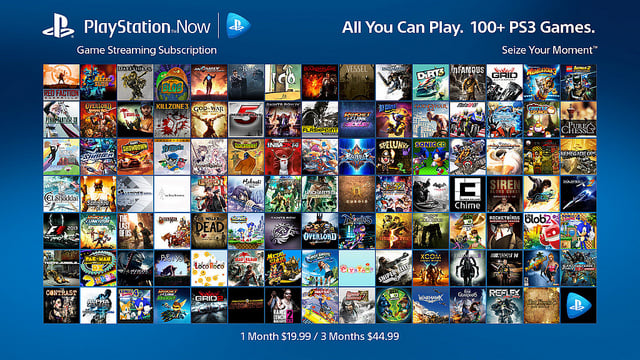 Read: PlayStation Now Subscriptions: 5 Things You Need to Know
Both the Xbox One and PS4 allow users to buy digital games and pre-order games ahead of their release. Each also allows their online multiplayer subscription services to be used for the entire family. That's a huge savings for households with more than one gamer that plan to upgrade from the Xbox 360 and PS3.
Xbox Play Anywhere
Sony's multiple screen strategy once spanned smartphones and the PS Vita, both met their ends not too long ago, leaving the PS4 as the last experience standing in Sony's gaming ecosystem.
Microsoft is trying something similar with Windows 10. The Xbox on Windows app for the operating system supports Xbox Live multiplayer, chats and Achievements. Later this year, the company plans to roll out Xbox Play Anywhere. Play Anywhere will let users purchase Xbox games for the Xbox One and unlock PC compatible versions that sync with their game saves.
PS4 vs Xbox One – Entertainment
A lot of people spend most of their time on a gaming console watching television. Some like to listen to music. In that respect, the PS4 and Xbox One couldn't be any more different.
Sling TV vs PlayStation Vue
Sling TV is a digital cable service that Microsoft partnered with for the Xbox One. $19.99 gets users a selection of cable channels delivered directly to their console. The Xbox One is the only game console that has the service, though it is available on set-top boxes.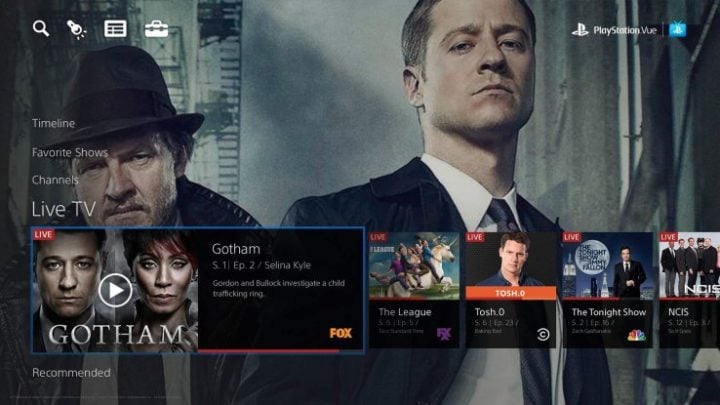 Sony doesn't need Sling TV because it has the better, but more expensive PlayStation Vue streaming service on the PS4 and set-top boxes. Sling TV has a wider range of channels, better apps and a streamlined on-demand system that lets users watch every episode of their favorite shows that aired during the previous month.
Read: PlayStation Vue vs Sling TV – What You Need to Know
The HDMI pass-through port that allows the Xbox One to be used in conjunction with a cable box still works in conjunction with the OneGuide app just fine. By pairing the console with a Kinect, users can give the app commands like, "Watch PBS" or "Volume down." The Xbox One is also compatible with Hauppague TV tuners. This gives users the option to watch broadcast television in addition to Sling TV and playing video games.
Apps
Both consoles offer a smaller curated app experience than what most smartphone users are used to. Developers can't just release apps for each platform, they have to be made with Sony and Microsoft. That's allowed Microsoft and Sony to score some big wins. For example, Spotify is only available on PS4.
Soon, that'll change. With a summer software update, Microsoft will add the Xbox One to its list of devices compatible with the Windows Store. Any developer will be able to create an app for the platform.
PS4 vs Xbox One – Pricing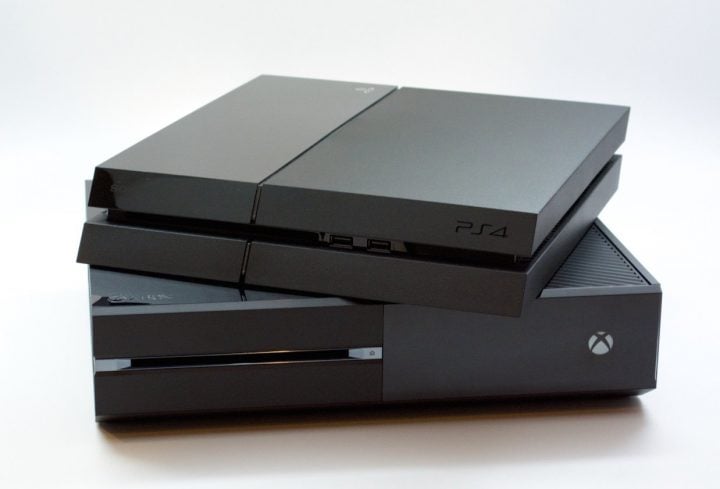 The Xbox One S will launch later this year at $299, but until then buyers have even cheaper options. The Xbox One with 500GB of storage and free games costs $279.99. You don't get a Kinect sensor with that bundle.
The PS4 starts at $349.99 with a free game. Users that want to experience PlayStation VR will need to purchase the necessary accessories separately for $399 later this year.
Good luck with your Xbox One or PS4 purchase.