PS4 & Xbox One Mad Max Release Date Info
The Mad Max video game will soon be here so you can play as Max in an immense open world game. The PS4 and Xbox One Mad Max release date is tied to the Mad Max Fury Road release date, but it might surprise you that this is not a tie-in game.
The Mad Max Fury Road DVD release date is set for September 1st, and that is the same day to expect the Xbox One and PS4 Mad Max release.
Since we watched the Mad Max movie we've been keeping a close eye on the Mad Max game to see if it can fill the desire for post-apocalyptic mayhem on PS4 and Xbox One. If you are hoping to play as Imperator Furiosa, you are out of luck as the game focuses on Mad Max.
Buy the Mad Max game for PS4, Xbox One or PC for $59.99.
Here is a fast look at the Mad Max release date game details that you need to know about, exclusive content and any connection to Mad Max Fury Road.
Mad Max Release Date and Time
The PS4 and Xbox One Mad Max release date is September 1st at 12:01 AM on digital and at select midnight release date events.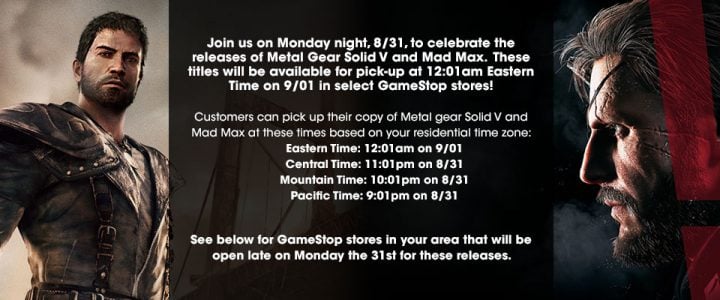 Like many games, the Mad Max release time is 12:01 AM Eastern, and it arrives simultaneously in other time zones in the U.S. This means you can play at 11:01 PM on August 31st in Central and 9:01 PM in Pacific. This is the same for digital and for disk versions at the limited midnight Mad Max release date events.
GameStop is open late at many locations, but not all, for Mad Max and Metal Gear Solid 5. Check before you go out as many stores that are normally open are not staying open late for the Mad Max release date.
Mad Max Game is Not Mad Max Fury Road
This is not a Mad Max Fury Road game. Instead of a two-hour car chase, this game will place you into an open world where you can engage in vehicle battles and on foot battles. You can use customizable parts and vehicles to get through the wasteland and take on enemies.
You do not play as Charlize Theron as Imperator or Nux and you don't take on Immortan Joe or the flame wielding guitarist.
Mad Max Gameplay Video
If you want to get an idea about what the Mad Max game is, you need to watch the Mad Max gameplay video above. You are in the Wasteland, a massive open world, where you can complete objectives attached to a story or optional side missions. This is an excellent look at what the Mad Max game is poised to deliver.
Mad Max PS4 Exclusives
There are some PS4 Mad Max exclusives that allow you to adorn your vehicle. There are 12 hood ornaments available on the PS4 first, through the end of November.
Longlooker
Wez Pads and Hawk
Humongous Mask
Feral Boomerang
Aviator Helm
The Furry Toadie
Bearclaw's Mask
The hood ornaments above may come to other systems after November 30th. These add perks to your car that can help you play better.
Mad Max Deals and Pre-Order Bonus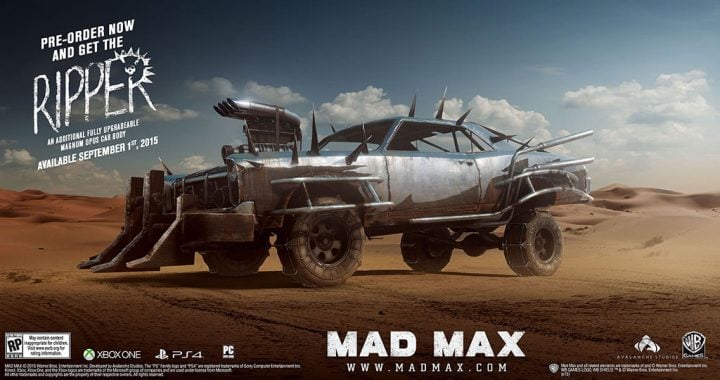 If you pre-order Mad Max at most stores you can get a free car upgrade. The Ripper is a V8 powered car with upgraded exhaust that delivers fast off the line performance. The bonus describes the bonus as, "Fully loaded with custom off-road tires and a tuned suspension mean The Ripper is both highly maneuverable and can also drive through the dangerous terrain of the Wasteland. With a serious ramming grill and armored defenses, The Ripper will tear through all who get in its way." This bonus is available at multiple retailers.
There are some Mad Max game deals, but not a plethora of options. Best Buy offers a $10 pre-order bonus and if you are a Gamers Club Unlocked member you save another $12. Dell offers a $15 eGift card promo if you sign up for the free Dell Advantage Rewards plan. On Amazon you can save $7 with Amazon Prime Savings if you are an Amazon Prime member.