PS4's Project Morpheus Release Coming in 2016
Project Morpheus, the virtual reality headset that Sony hopes will catch on with gamers looking for an immersive experience, is getting ever closer to release. This week at the GDC 2015 Sony confirmed it'll hold a Project Morpheus release sometime in 2016.
The announcement of an official Project Morpheus release in 2016 came during Sony's presentation at the Games Developer Conference. GDC is a yearly event where video game makers and the companies that make video game platforms like the Xbox One and PS4, come together to talk strategy and learn from each other. Technologies and software upgrades talked about at GDC directly impact the gaming community as a whole. Building developer support at GDC is critical to a device like Project Morpheus. Without games, Project Morpheus will end up stagnant. Sony says it has games in the pipeline, but won't be sharing those until the Electronic Entertainment Expo in June.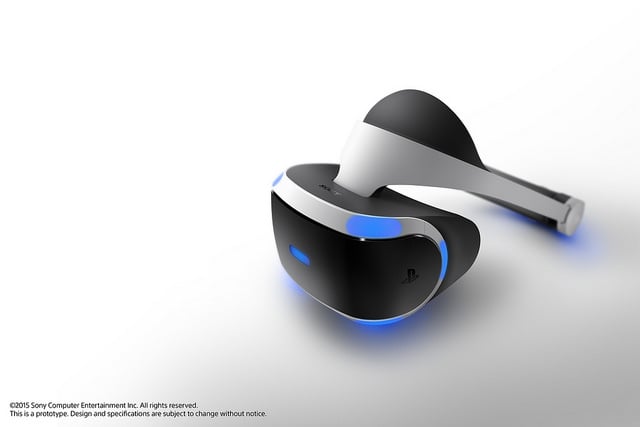 In a post on its PlayStation Blog Sony talks more about the features Project Morpheus will have and how it's changed since it was initially announced. Sony hopes that all the changes will help Project Morpheus users feel like they're inside their games.
First, there's an upgraded 5.7-inch OLED display with a 1080p resolution. That display replaces the simple 5-inch LCD that was in the original version of Project Morpheus. Because of the change users can expect more fluid images in front of their faces. Colors should pop more and blacks should appear black since OLED displays use a different kind of lighting technology than LCDs. Sony says it's able to get latency to 18ms, half of what it could do in the original version. Low latency means there's less of users waiting for what they're doing and the movements they're making to reflect in their games. In theory, tilting your head and having the camera change should take less time.
Project Morpheus has always been a two-part system. Whereas a lot of virtual reality headsets use built-in sensors and gyroscopes, Project Morpheus relies on users having the PlayStation Camera for the PS4. The PlayStation Camera does all of the actual movement tracking, which is why Sony added more LED lights for the Camera to monitor. Sony says it's seeing more accurate head tracking because of the new LEDs. Though, users will have to wait until the Project Morpheus release to how all of these internal improvements translate into a better device.
Read: Sony's Project Morpheus is a VR Headset for the PS4
Finally, it's made some huge changes to Project Morpheus' design. Now a single headband supports the entire display, ridding users of that overly annoying process of taking the device on and off.
All told, Project Morpheus has improved a great deal since launch. The changes point to Sony constantly iterating on the look and features of Project Morpheus instead of releasing what they have already to just compete with new entries from Samsung and HTC. That's important, virtual reality headset technology is so new that a botched first-generation version could easily kill any enthusiasm for future versions, no matter how good they are. Sony says it'll talk more about its Project Morpheus release plans after E3 too.
VR headsets have quickly turned into the next battleground for entertainment. Sony, Samsung, HTC and Oculus are all hoping that users will want to be immersed in their video games, television shows and movies. If they're right, buying a VR headset could be akin to having the ultimate widescreen television. All of this requires these companies to provide good controls or take advantage of natural user interfaces like eye tracking, gesture support or voice commands. How easy these things are able to manage will be the true test.
For its part, Microsoft has already confirmed plans to sort-of enter the VR headset space too. Its HoloLens device will also slip over user's heads, but instead of covering the eyes completely, it overlays its interface on objects in the room.
Microsoft hasn't shared a potential release date for HoloLens, but has confirmed that it runs its Windows 10 operating system.

As an Amazon Associate I earn from qualifying purchases.